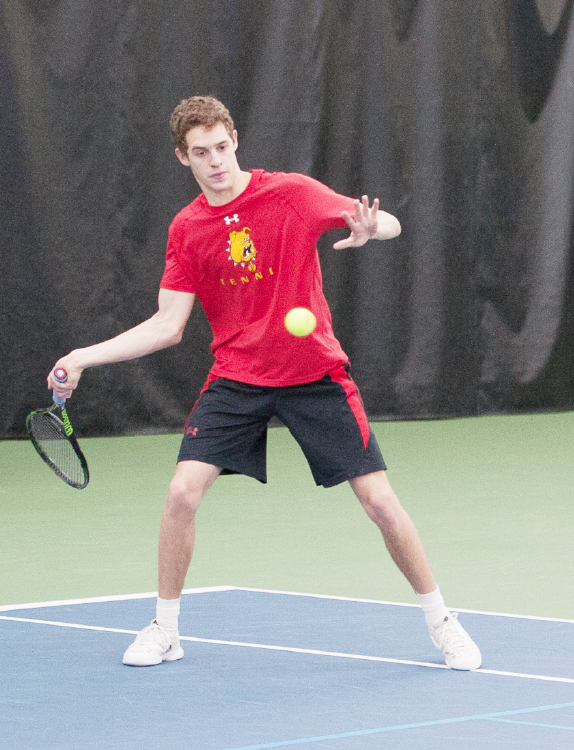 The Ferris State men's tennis team is taking their talents to Florida where they will play five matches in seven days.
The Bulldogs will begin their spring break and their long road trip on Friday, March 4. The team will be playing Florida Southern, Post University, West Liberty, Saint Leo and Methodist.
"It's going to be a lot of tennis in a short period of time. We have a lot of depth so if we need to we can rotate people in and out," coach Chad Berryhill said. "I coached seven years in Florida and have a pretty good grasp on how to give players what they need to eat and drink and when they need to do those things."
Freshman Till Von Winning is doing a phenomenal job, as he is the only person on the team that hasn't lost a match in singles this spring. Von Winning sits on a 13-1 singles record. His only loss came in a three-set match last fall against University of Indianapolis junior Arklon Huertas del Pino.
"It is my first season of college tennis, so I can't compare it. I'm happy about how our team has performed so far," Von Winning said.
The team will be playing on outside courts while they are in Florida, contrary to the indoor courts that they have been practicing on in Big Rapids. The Dawgs will not only be competing against other schools, but the weather as well.
"The sound is different, the ball bounces higher and slower and we have to deal with the wind and sun. We have to adapt quickly during our two practice days before the matches start," said Von Winning.
The team sits at 6-1 overall going into Florida. The Bulldogs won't have a home match until Wednesday, March 23 against Grand Valley State.