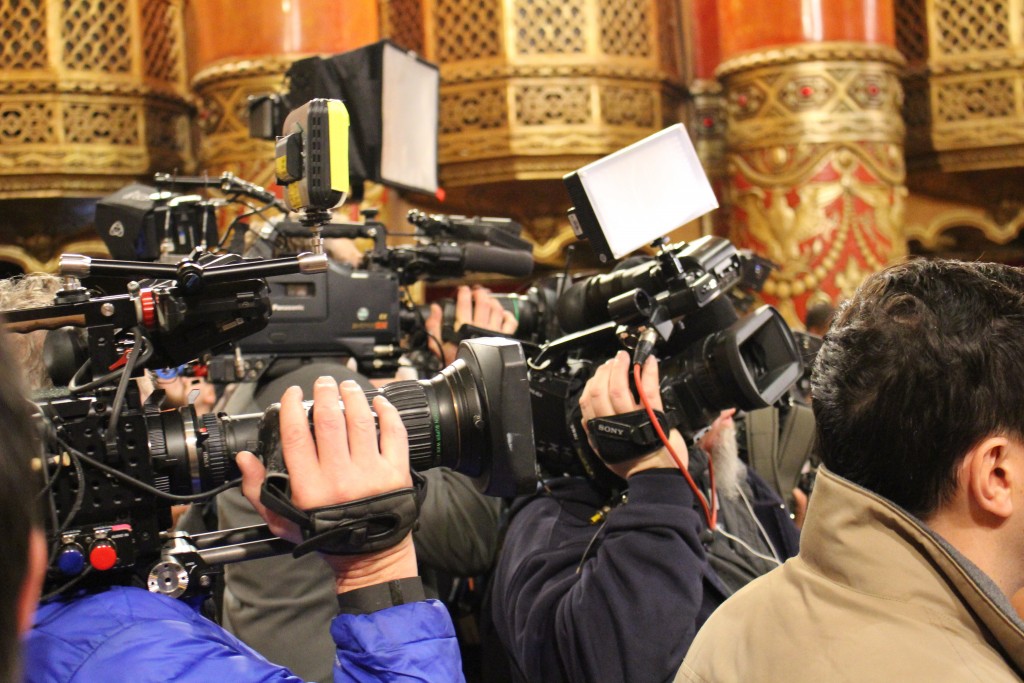 DETROIT, MI – The Republican presidential candidates have been whittled down to four on stage to argue education, economic and other policies on March 3 at the Fox Theatre.
Marco Rubio, Donald Trump, John Kasich and Ted Cruz took the stage hosted by Fox News with one missing in his hometown: Ben Carson. Carson was absent after the results of the Super Tuesday primaries in 11 states and territories showed him as a very distant last to the other candidates.
The Republican debate came to Detroit with just five days remaining before the March 8 Michigan primary elections, and the candidates traded shots at each other on everything from national security and economic issues to gay marriage, state's rights and gun ownership.
Rep. Justin Amash, R-Mich., was at the debate to show his support for the Cruz campaign. He said addressing education and economic issues for college students and millennials is important to the Cruz campaign and here in Michigan.
"What's important is that college be affordable for those who want to go to college. And right now we have a very top down system where the government is heavily involved. As a result, tuition rates go up and when the subsidies are given out to students, the colleges are just responding by raising tuition," said Amash. "We need to make sure that people who want to go to college can get to college, but also that the government isn't getting involved in a way that encourages people who really don't want to do it but are incentivized to do it."
Cruz took some firm stands on issues like the wars and conflicts in the Middle East and Northern Africa, and said if any radical Muslims try to bring the fight to the United States they've signed their "death warrant." He also wanted to make it clear he has the best bet of the Republican candidates over Trump at beating their likely opposition, Hillary Clinton.
"He's told us to look to the CNN poll. Well, that's a very good poll to look to, because that CNN poll showed that head to head Donald Trump loses to Hillary Clinton by eight points," said Cruz. "He doesn't just lose close. He loses by eight points. That same poll he told you to look at shows me beating Hillary Clinton."
While Cruz himself wasn't available for comment regarding his economic growth policy, Cruz campaign California chairman and spokesman Ron Nehring said millennials face a number of issues because of stifling policies in Washington.
"Number one we have a regulatory system in Washington that's out of control. Number two we have Obamacare, which Senator Cruz has made clear is a job killer. And number three, we have an uncompetitive tax system," said Nehring. "All of these things are successive blankets on top of our economic growth potential in this country and are hurting the ability to create jobs. Who does that hurt the most? It hurts the people who are just entering the job market."
Kasich, governor of Ohio, was the one who focused primarily on himself. He made every attempt to appeal to his experience and knowledge of the political process and what he's achieved in his political career.
"I'm the only person on stage who was the chief architect of balancing the federal budget. I fought the entire Washington establishment and won," said Kasich.
Fox News anchor and debate moderator Megyn Kelly took an opportunity to fire at Trump on several issues he's dodged and reversed on over the course of his campaign. Taking immigration as an example, she said of Trump how he's played to people's fantasies, and it's a tactic he praised in his book "The Art of the Deal".
"The point I'm going for is you change your tune on so many things, and that has some people saying, 'What is his core?'" said Kelly.
The other candidates on stage took the cue from Kelly to pile on Trump and attack him on all sorts of issues, ranging from his plans for cuts in the Department of Education and the Environmental Protection Agency to calling him a scam artist for taking people's money at Trump University and offering sham advice.
Each candidate also took shots at Trump for refusing to release the tapes the New York Times allegedly has of him saying he doesn't actually believe anything he's said in this election throughout the debate.
Rubio, tended to take shots at Trump throughout the night, attacking him for being a "con man" and wanting to do things differently regarding illegal immigration as president rather than the way he and his colleagues in the Senate have handled the issue up until this point.
"When I'm president it will not be dealt with the way it was done in the Senate," said Rubio. "We'll see what the American people are willing to support. It's not going to be an executive order and we're not going to ram it down their throats."