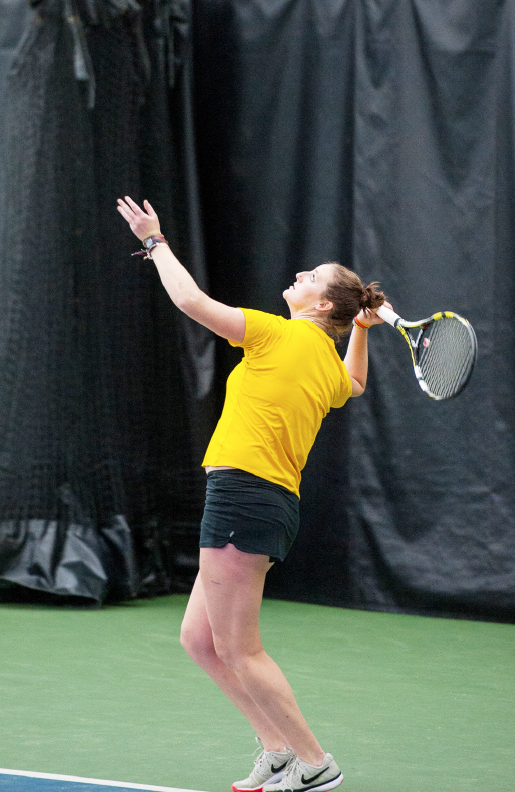 The Ferris State women's tennis team has the pleasure of escaping the Michigan weather as they travel to Florida over spring break for four matches.
The team's annual spring break trip down south will begin with a Sunday, March 6 matchup against Tarleton State of Texas. The next two days of games for the women will come first on Tuesday, March 8 against Charleston of West Virginia and then on Wednesday, March 9 against Saint Leo University of Florida. The trip will end on Thursday, March 10 when the Lady Dawgs go one-on-one with Hillsborough Community College, another Florida native school.
Since the beginning of their 2015-2016 season, the Lady Dawgs have gone 13-5 overall, 8-3 in conference play. Shawnee-Ann Brelsford, the senior from Brisbane, Australia, said that she likes what she is seeing from the team so far in the second part of the season.
"This spring I definitely like that we have become such a close team that works well together. It really does help us when it comes time to go out and compete together," Brelsford said. "It is great for our upcoming spring break trip where we will be with each other 24/7."
Breslford also talked about the things they can do in order to prepare for their upcoming trip to Florida.
"There are not a lot of changes that can be made in the next few days leading up to our trip to Florida, so I think we should focus on doing all the right things to prepare us for playing outdoors in the Florida heat," Brelsford said. "We have to make sure we are eating well, staying hydrated and getting some sleep."
Brelsford was happy to say that head coach Chad Berryhill was nice enough with his scheduling that he gave the team a couple of free days to relax in between matches, but for the most part, the Dawgs are there to compete and win.
Freshman Nicole Meylor said that she is ready to not only enjoy the Florida weather, but she is also excited to take on some new competition. She noted that doubles competition is something she would like to see the team improve on, but overall she is happy with her team's play.
"Overall I think the team has great spirit on and off of the court," Meylor said. "We are mentally tough when it comes to matches, but we need to find that winning edge that the team had last season."
Coach Berryhill has been vital to Meylor's growth at Ferris and the freshman said that it is nice to have a coach who she can turn to when she needs something.
"Some of the things coach has tried to instill in the team as far as core goals are communication, work ethic and to be committed and accountable," Meylor said.
The Lady Dawgs do not play a single match in Michigan throughout all of March and will be back in action in Big Rapids when they host Davenport on Friday, April 8.