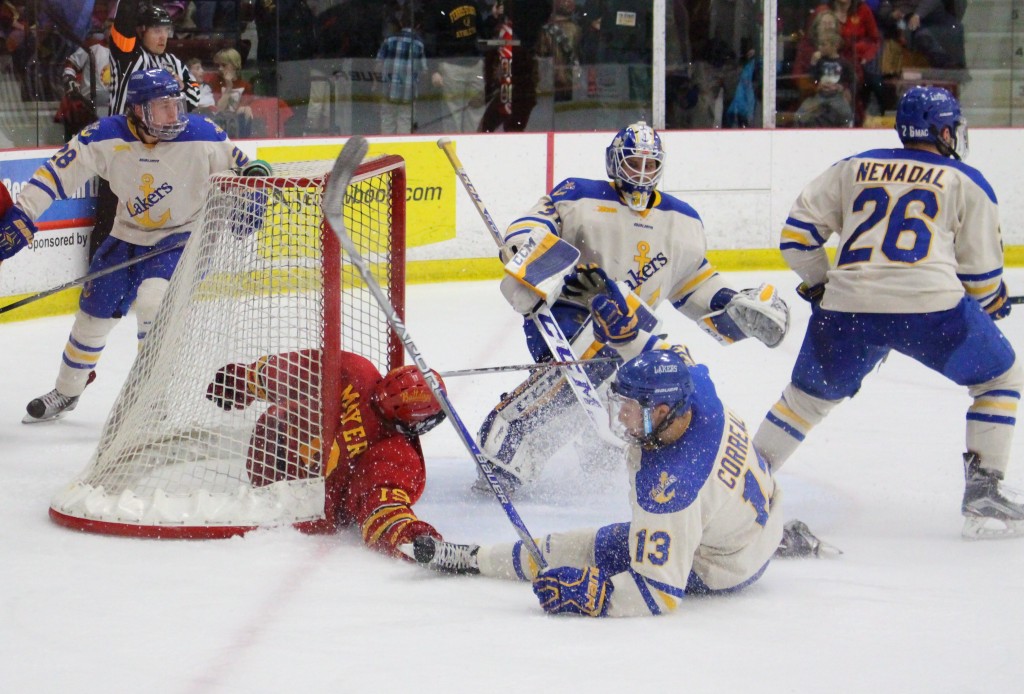 On "Frozen" night in Ewigleben Arena, the Dawgs were able to fit the theme of the night, as they played with ice in their veins to secure the high stakes 3-1 victory over Lake Superior State.
The Dawgs have just one regular season game remaining before the WCHA playoffs kick off. The top four teams in the conference host the first round of the playoffs, so tonight the Bulldogs were fighting to inch their way up from fifth place and into eligibility for home-ice advantage.
Allowing just one goal on 22 shots, freshman goalie Darren Smith kept cool under pressure.
Meanwhile, the Dawgs offensive attack was on fire. Ferris landed 52 shots on net in the contest. Some post-whistle roughing was also heated, as senior forward Kenny Babinski was thrown to the ground within the first minutes of the game during a break in the action, and junior forward Gerald Mayhew exchanged punches with a Laker in the third after the whistle.
Senior forward Matt Robertson was able to find twine first in the contest, netting a goal at the 4:00 mark of the second period. The Lakers answered soon after to knot the game 1-1.
Sophomore forward Drew Dorantes would help the Dawgs reclaim the lead midway through the second period when he scored on a Bulldog power play to put his team ahead 2-1.
Late in the third period, Mayhew launched an empty net goal from behind the blue line that would prove to be the final nail in Northern's coffin, and the Dawgs skated to a 3-1 victory.
The Bulldogs are currently in fourth place in the WCHA, but they're skating on thin ice. Northern Michigan trails by just one point, and has another game against Michigan Tech tomorrow which could turn the tides.
If Ferris can earn a win tomorrow night, or Northern loses to Tech, the Bulldogs will clinch home ice in the first round of the WCHA playoffs. The puck drops in Ewigleben Arena tomorrow night at 7:07 p.m.
Check out the photo gallery from the game here.