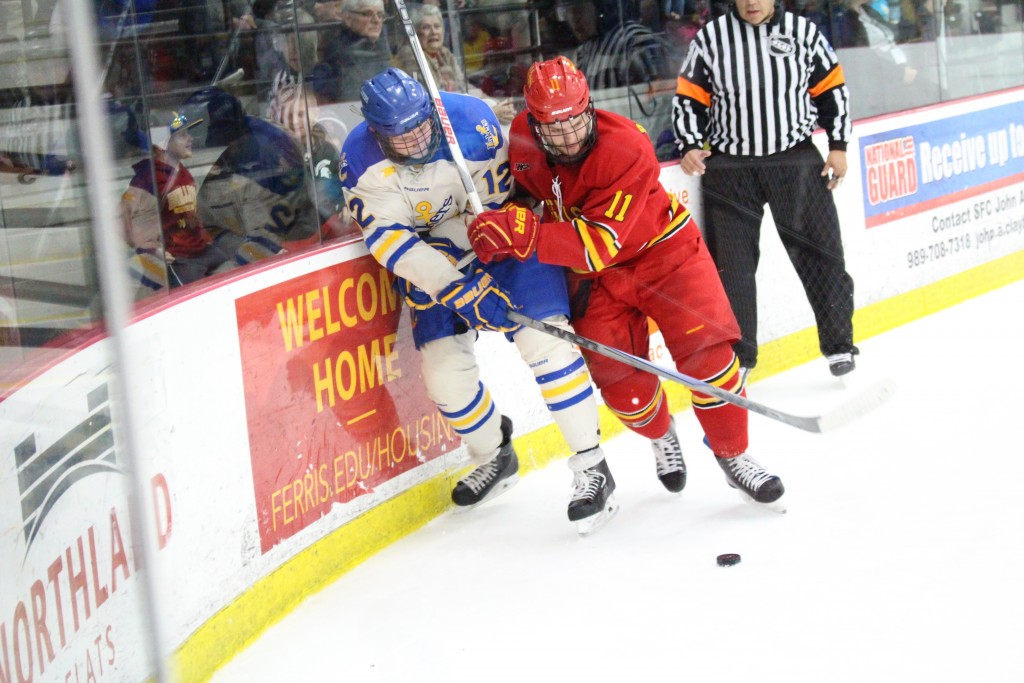 The Ferris State hockey team fell short of a win on senior night, but the Dawgs will play at least two more games in Ewigleben Ice Arena after clinching home-ice advantage in the first round of the WCHA Playoffs.
The Bulldogs scored first when junior forward Chad McDonald capitalized on a breakaway at the 17:19 mark of the first period. Senior defenseman Sean O'Rourke and sophomore defenseman Tyler Dorantes assisted on the goal.
The second period was a rough one for the Bulldogs. Ferris put 14 shots on net during the second period, but the attempts proved futile, as the Dawgs couldn't slip one past LSSU sophomore goaltender Gordon Defiel.
On the other end of the ice, the Dawgs only allowed five shots on goal in the second period, but three of those shots found the back of the net for the Lakers as they took a 3-1 lead heading into the third period.
After a shaky performance in the second period, Ferris freshman goaltender Darren Smith was replaced by junior Charles Williams in net.
Williams fared better than Smith in net in the third period, stopping all eight shots he faced. After a third period goal by Ferris sophomore Mitch Maloney, the Dawgs cut the deficit to one, but it wasn't enough as the game ended with a 3-2 score in favor of the Lakers.
The Bulldogs finished their regular season fourth in the WCHA with a 15-13-6 overall record and a 13-10-4 record in the conference.
Coming into the game, Ferris needed a win or a Northern Michigan loss in order to stay at the No. 4 spot and keep home-ice advantage for the WCHA Playoffs. Northern Michigan failed to beat Michigan Tech, so the Dawgs will be the No. 4 seed in the playoffs and will host a three-game series against No. 5 seed Northern Michigan on Friday, March 11 at 7:07 p.m., Saturday, March 12 at 7:07 p.m. and if needed, Sunday, March 13 at 5:07 p.m.
Seven Ferris seniors were honored at the senior night game. Defensemen Zach Dorer, Simon Denis, Brandon Anselmini, Sean O'Rourke, as well as forwards Matt Robertson, Kenny Babinski and goaltender Ruben Medrano all received recognition and will have the chance to return to their home-ice next weekend to keep their hopes of making the NCAA tournament alive.