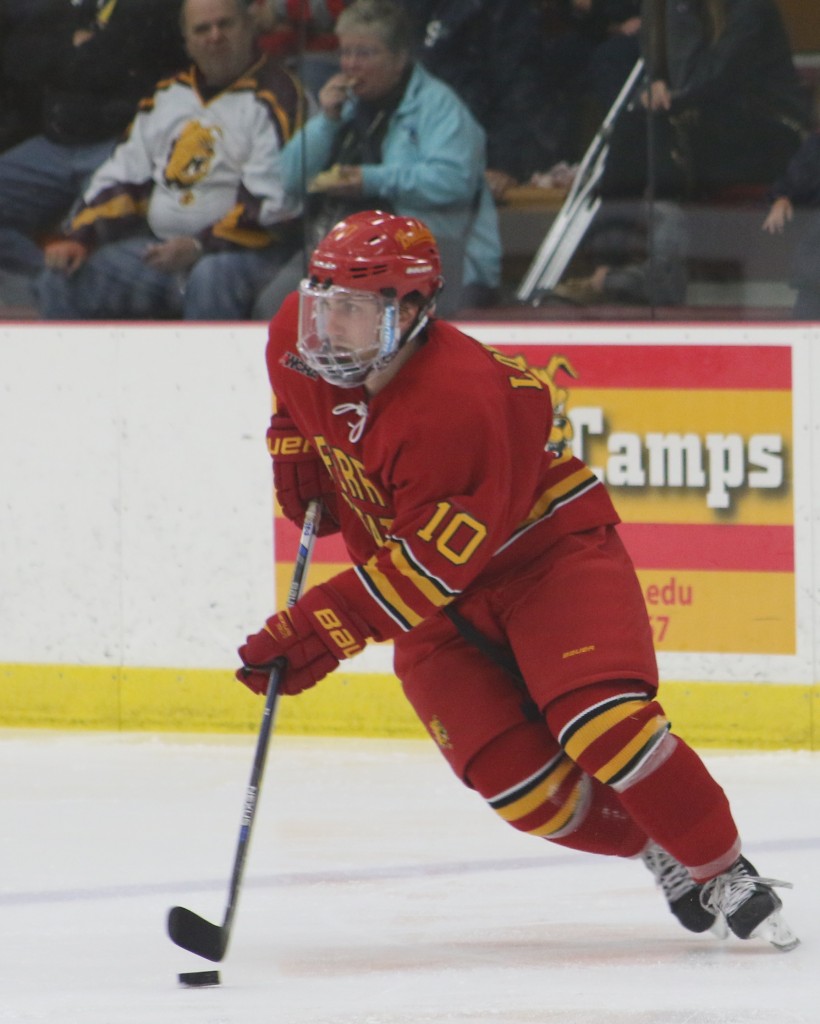 Ferris State hosted and won their first playoff game of the year 3-2 on Friday night against a scrappy team of Wildcats from Northern Michigan University (NMU).
After a regular season home-ice-sealing weekend came to a close last week against Lake Superior State University, the Dawgs found themselves in good position to take on NMU. Ferris has a chance of winning the best of three series tomorrow night with a win over the Wildcats.
Ferris struck first and they struck fast on a rocket from junior defenseman Ryan Lowney with 14:23 to play in the first. He was assisted on the goal by freshman forward Jacob Hetz and freshman forward Trevor Recktenwald. The first period ended there at 1-0, giving The Dawgs the lead heading into the second period.
Darren Smith was in goal for FSU and tallied 11 saves by the end of the first period. NMU goalie Mathias Dahlstrom hauled in six saves of his own by the end of the first.
The second period started off slow but picked up with 11:23 to play after junior forward Jared VanWormer knocked one in the goal for Ferris. The assist came from senior defenseman Simon Denis and junior forward Gerald Mayhew. Once again, Ferris State was able to withstand the Wildcat offense who led 9-8 in the shot category at the end of the second. The Dawgs skated into the third with a 2-0 lead.
Another slow start for both teams ended after NMU's junior forward Dominik Shine scored his 15th goal of the season at 6:52 in the third, making it 2-1 in favor of Ferris. He was assisted by senior forward Darren Nowick and sophomore defenseman Zach Urban for the Wildcats. Shortly after, NMU was able to tally another goal to even the score at two apiece. With 10:13 to play, junior forward Jared Sooth was credited with the goal and was assisted by senior defenseman Barrett Kaib and sophomore forward Robbie Payne.
The Dawgs answered NMU's goal with one of their own as junior forward Kyle Schempp snuck one by the Wildcat defense on a Bulldog power play to put his Dawgs back up 3-2 with under eight minutes to play. The assist went to freshman defenseman Ryker Killins and junior forward Chad McDonald.
Schempp's goal ended the scoring on the night making it 3-2 after a thrilling last minute of play in Ewigleben. FSU's Smith ended the evening with 26 saves and NMU's Dahlstrom ended with 29 of his own.
The Dawgs are back in Big Rapids tomorrow night with a puck drop set for 7:07 p.m.