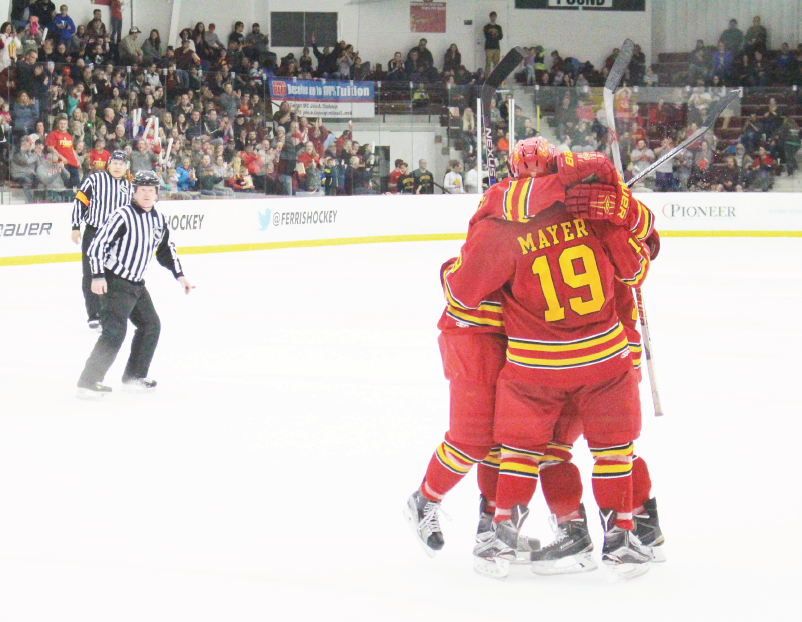 The WCHA Final Five is once again calling Ferris State's name after a home playoff sweep over the Northern Michigan University Wildcats (NMU) last weekend.
The Bulldogs defeated NMU last Friday in an exciting 3-2 victory before taking the Wildcats down once again Saturday night with a 5-2 win. The Dawgs secured themselves an extra day of rest by defeating NMU Saturday night as a Wildcat victory would have resulted in a tie-breaking game Sunday afternoon. Freshman goalie Darren Smith, now 2-0 in his college playoff career, talked about the excitement of making it deeper into the playoffs.
"This means a lot to everyone on the team, this is what we have worked for all year," said Smith. "This was everyone's goal from the start and I think we have to take it one game at a time and worry about the task at hand."
Smith tallied 48 saves over the weekend against the Wildcats. Bulldog head coach Bob Daniels even went as far as saying Smith had a whale of a night on Saturday. Daniels also talked about what his team is focusing on after a hard-fought series.
"It's a heck of an accomplishment, and I know I want the boys to enjoy between now and Monday," Daniels said. "Come Monday, we'll set our sights on Van Andel and going for the conference championship. I like our chances there a lot."
The weekend sweep marked the first time all year that the Dawgs were able to take both games at home. As Ferris looks forward, they will be playing a team they have not faced since Halloween— Michigan Tech.
The Dawgs went 2-2 against the Huskies during the regular season, splitting weekends both at home and at Michigan Tech. Friday's game will be the first time that these two teams have gone up against each other in the WCHA playoff picture.
In only his second career start in goal for Ferris, Smith made 18 saves in the third period alone and 36 saves total on the night in Ferris' last regular season game against Tech. Smith will look to be a big factor in the playoff game as Michigan Tech has either led or tied Ferris State in shots on goal in three of their four regular season meetings. Junior forward Chad McDonald talked about what he expects from the Ferris State fans.
"It's going to be awesome. I look back to my freshman year and we had almost the whole lower bowl sold out so we are really looking for Bulldog Nation to come out and support us," McDonald said. "Our students bring a whole different element that we can rely on for a little bit of energy."
Anyone looking to purchase their playoff package tickets can head to the FSU Athletics Ticket Office inside the Ewigleben Sports Complex. Members of the Dawg Pound can purchase their tickets starting Monday, March 14 at 12 p.m. and all other students can begin purchasing their tickets at 3 p.m. The first 150 students with their ID present will also be able to ride the fan bus down to Grand Rapids.
The No. 4 seed Bulldogs are hopping on U.S. 131 headed south to Van Andel Arena Friday, March 18, where the puck is set to drop at 7:37 p.m. in their game against the No. 1 seed Michigan Tech Huskies.