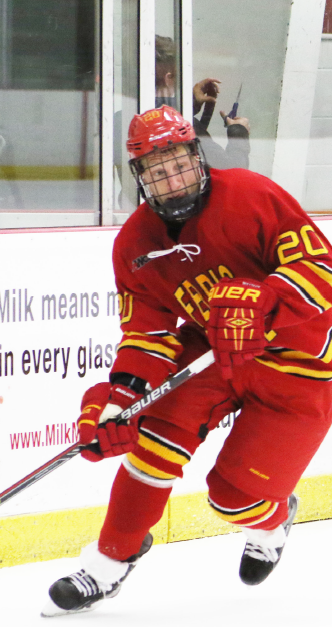 Ferris hockey junior Gerald Mayhew earned Top Dawg with a two-goal performance on Saturday that pushed Ferris to the semi-finals of the WCHA tournament. The Bulldogs swept Northern Michigan, winning 3-2 and 5-2 on Friday and Saturday. Mayhew had an assist in both games but scored both of his goals in the second.
The junior out of Wyandotte has played well for Ferris all season. He leads the team in goals and assists with 13 and 22 and is tied with Northern Michigan's Darren Nowick for third in points in the WCHA. Mayhew's play will be instrumental for the Bulldogs as they enter the WCHA Final Five.
The Final Five is really a final four and Ferris sits in the last slot. Mayhew and the Bulldogs will take on the No. 1 seed Michigan Tech Huskies. These teams opened up their conference schedules with each other, splitting the series. Ferris came away with a 3-2 victory in the second of two matchups with Mayhew earning one assist.
This semifinal matchup will be played at Van Andel Arena in Grand Rapids at 7:37 on Friday, March 18.