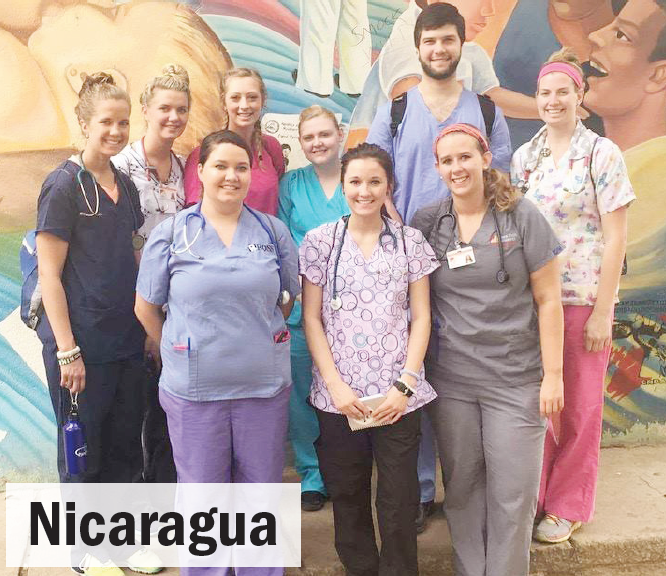 Kaley Funkhouser spent her spring break in Nicaragua.
She and eight other fourth-semester nursing students traveled there for a service learning project required for the nursing program. The project aims to promote health and all the ways nurses can provide support to communities. It requires 30 hours of community service from the participants, along with six journal entries about the project and a presentation to the nursing students who aren't as far along in the program.
"Personally, I've always wanted to be involved with a trip like this because it's a combination of my two passions, which are traveling and nursing," said Funkhouser. "I think that we as a group thought that this project would be a perfect opportunity to expand our nursing skills and contribute to a population that is in desperate need of medical care."
Funkhouser said the trip has produced some struggles, including lack of running water, language barriers and living in close proximity to a plethora of cockroaches. The trip was still extremely rewarding, though.
"Getting to care for the people of Nicaragua has made every 'struggle' we've had extremely worthwhile because they are so grateful that we are here to help in any way we can. They are just happy to have someone care, in my opinion," Funkhouser said.
During the trip, the group of nine nursing students got to take a tour of one of the main hospitals in Nicaragua, San Juan de Dios Estelí, and observe surgeries in its operating room. They also got to set up and work in 'pop-up' health clinics around rural areas of the country, which Funkhouser said was her favorite part of the trip.
"I think what the career of nursing boils down to is being able to truly be there for another person who needs your help through the good, bad and ugly, which is not something that can be learned from a textbook," she said. "I feel incredibly lucky to have the opportunity to go on a trip like this with eight other really exceptional future nurses."