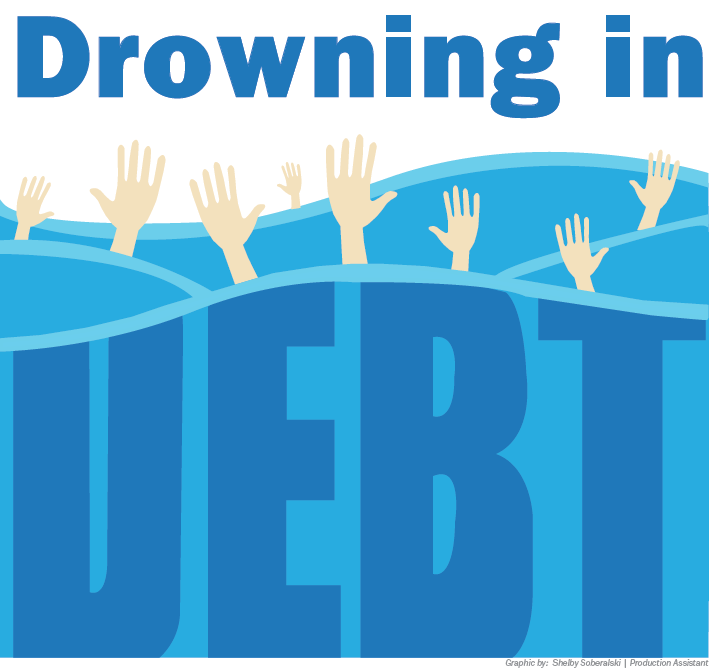 Freshmen at Ferris State are becoming more and more stressed out about their financial situations, echoing the results of a national survey.
The annual survey, sponsored by the Higher Education Research Institute at University of California at Los Angeles, showed an increase in students' concern about money and reliance on Pell Grants. This is money from the government given to students who need help paying for college. It found that 54.7 percent of students who received these grants still needed to take out loans to pay for school.
Last year, the average amount of student debt that students were graduating with was a whopping $35,051. With the cost of tuition increasing, students are left questioning if the future will prove that college was a good investment.
"I'm always stuck wondering if the check I'm going to be getting one day is going to be worth all this money I'm putting into it," said Ferris marketing freshman Dani Bronson.
Even students who do not bear the full burden of paying for school on their own are feeling the pressure. Ferris freshman and pre-optometry student Ashlee Adams said that money is still a major concern despite help from her parents and receiving an academic scholarship.
"I don't want to waste money by doing poorly in a class," she said. Adams has a valid concern; the average cost of tuition at Ferris is upwards of $20,000.
"I don't think it's fair. It's ridiculous to expect young adults to be able to pay for [classes] or to pay off extensive loans," Adams said.
Tuition bills can also be a determining factor when it comes to choosing which school to attend. Sometimes a student will choose to go to one college over another because it is cheaper for her.
"Ferris was not my first choice, but I ended up choosing to go here," Ferris pre-medicine freshman Jackie Zvonar said. "They offered the most scholarship money." She is also a member of Ferris' Honors Program.
Attending college is something that over half of the population does after high school and something many students feel that they need to do in order to lead a prosperous life.
"I believe that in order for a society to succeed the people need to be educated; therefore, we should make higher education more accessible to more people," Zvonar said.
For more information on The American Freshman Survey, go to www.heri. ucla.edu.