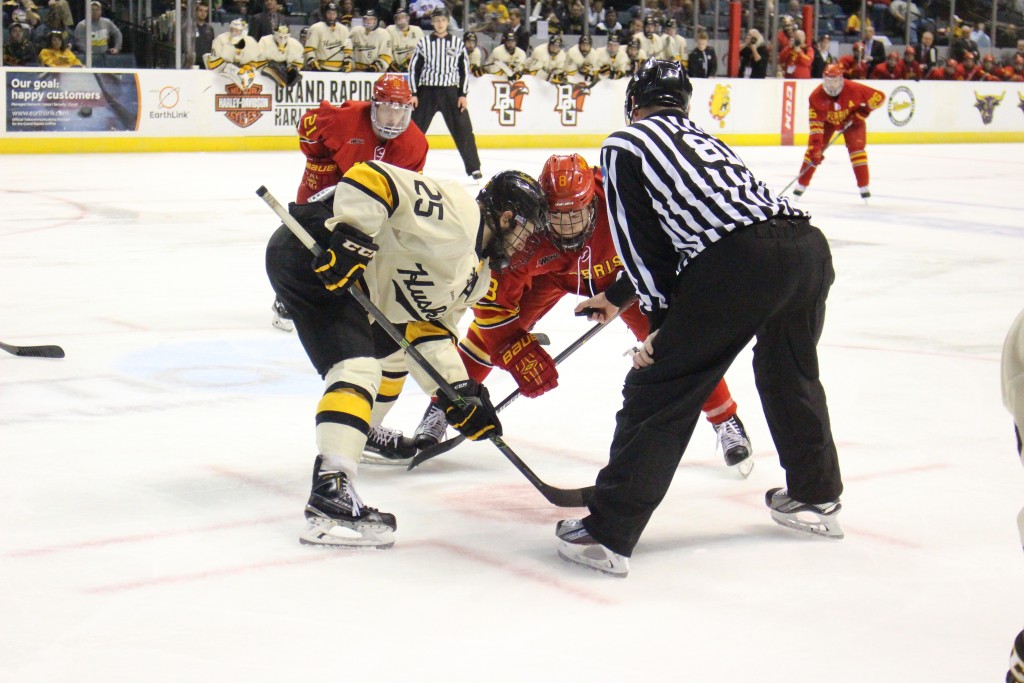 The situation is simple for the Ferris State hockey team as they prepare to take on the Minnesota State Mavericks in the WCHA Championship game.
Either win and go on to the NCAA Frozen Four Tournament, or lose and go home to Big Rapids empty-handed, reflecting on what they could have done differently.
What isn't so simple, though, is the battle that sits before the Bulldogs.
When the two teams met in a weekend more than four months ago, they split the series 1-1. The Bulldogs took the first game 7-4, but fell 3-2 to the Mavericks on the following night.
Ferris State's 7-4 victory marked the only time the Dawgs have beat Minnesota State since Ferris joined the WCHA in 2013, making the overall record between the two teams 9-1 in favor of the Mavericks.
Ferris head coach Bob Daniels has plenty of respect for Minnesota State.
"First of all, they're well coached," said Daniels. "Like a lot of teams in our league, they're very aggressive. They've got firepower and are a lot like [Michigan] Tech where they've got depth in scoring. They have very good size and a mobile defense core and good goaltending."
The Mavericks have knocked out the Bulldogs in the WCHA Playoffs the last two years, once in the semifinals and once in the championship game.
In 2014, the Dawgs and the Mavericks went head-to-head in the WCHA Championship game when Minnesota State toppled the Bulldogs 4-1, but the Bulldogs made NCAA Tournament as an at-large bid.
That won't be the case here. Ferris State is in a do-or-die situation, so they better bring their best stuff to Van Andel tonight.
Daniels isn't focused on the NCAA Tournament with the Broadmoor Trophy within his grasp.
"The conference means so much to us and that's first and foremost," said Daniels. "The rest would be gravy."
The puck drops for tonight's championship at 6:07 p.m. at Van Andel Arena in Grand Rapids.