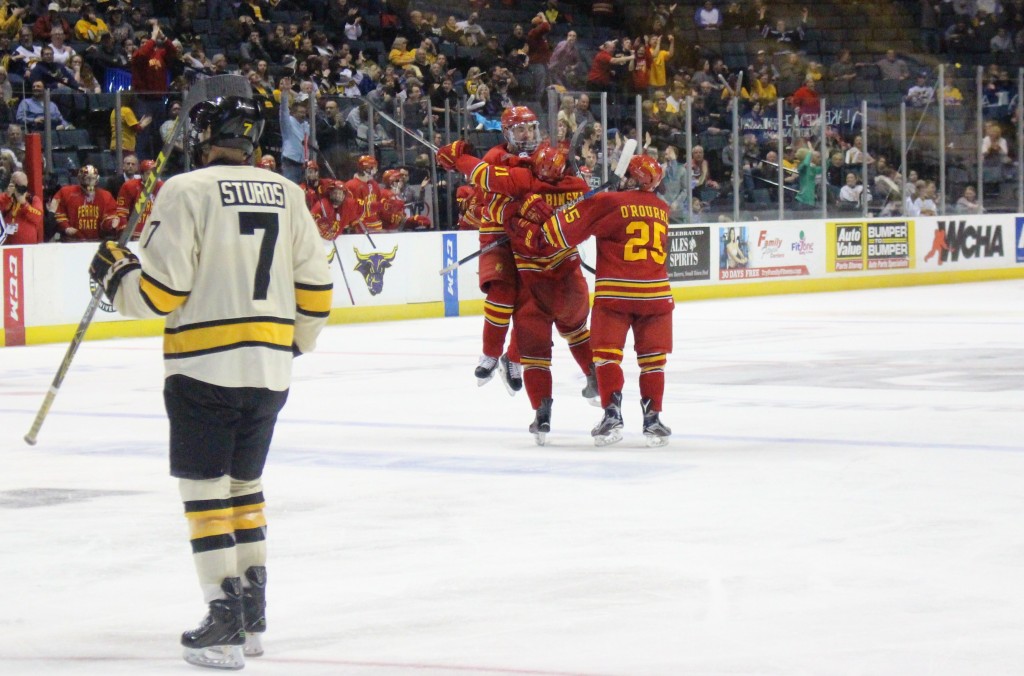 Senior forward Kenny Babinski's third period goal assured Ferris hockey a spot in theHA championship game, after beating Michigan Tech 1-0.
Sophomore center Andrew Dorantes had the puck in the corner and passed it to Babinski for an outside slapshot for his ninth goal of the season and his first Final Five goal.
Ferris had many opportunities to score, but could not hit home most of the night. Power plays came frequently for the Bulldogs, but they could not capitalize. The Huskies held strong even in a five-on-three scenario.
Tough defensive play led to both teams passing inefficiently, leaving many opportunities wasted. However, Ferris became more fluid as the game went on.
With 3:45 to go in the second period, sophomore wing Tyler Andrew got the puck with nothing but open ice ahead. Andrew was alone with the goalie, but his shot rang off the pipe. Every shot seemed to be just off as the first two periods were scoreless.
The third period saw both teams clawing and scratching for every possession and possible scoring opportunity. Ferris was finally able to capitalize.
After Babinski's goal, Ferris played keep away with the puck as the clocked ticked towards zero to hold on to the win.
Freshman Darren Smith secured the pipes with 30 saves on the day. With the shutout, Smith set a Ferris State record for single season shutouts by a freshman goaltender.
The Bulldogs will take on the Minnesota State Mavericks in the WCHA championship game at the Van Andel Arena in Grand Rapids at 6:07 p.m. on Saturday, March 18.
Full photo gallery of the game can be found here.