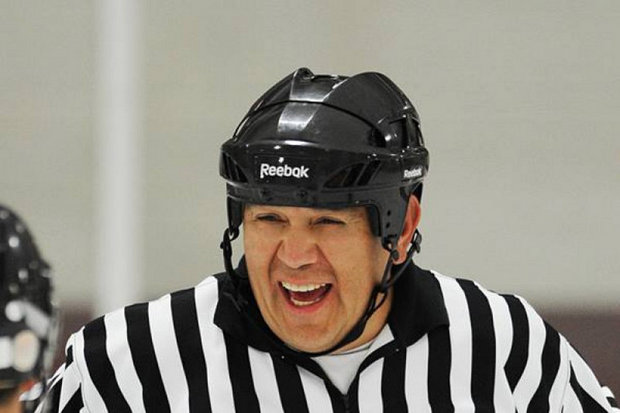 Referee Oliver "Butch" Mousseaux lay still and unconscious on the ice. He was quickly swarmed by paramedics, and the pre-game music halted abruptly.
Confusion and silence fell over the slowly filling arena like a veil, and all eyes were locked on the growing pool of blood about the injured referee's head.
During pre-game warmups before the March 18 showdown between Ferris State and Michigan Tech, Mousseaux took a hard fall on the ice, and his helmet-less head absorbed much of the impact.
By the time he was carried off the ice, Mousseaux had regained consciousness, but once he reached the hospital, he was declared to be in critical condition.
Mousseaux's condition would not improve, despite the medical team's efforts to put him in an induced coma to fight his intracranial swelling. Mousseaux died just one week later, on the morning of March 25. He was 48-years-old.
Following the incident, Mousseaux and his family saw an outpouring of support from the hockey community. A GoFundMe page was started soon after the accident, and between those donations ($25,000) and funds generated by a separate donation page sponsored by Dawg Nation Hockey Foundation ($85,000), over a hundred thousand dollars were donated to Mousseaux's family.
Mousseaux—a Grosse Point resident and Colorado native—was the first Native American referee to work in the NHL. Due to his longtime commitment to work in the junior hockey and collegiate level and his pioneering efforts in the NHL, Mousseaux's referee jersey and skates are featured in the Hockey Hall of Fame in Toronto, Canada.
According to an MLive article published March 21 by Pete Wallner, Ferris State Head Coach Bob Daniels spoke on his admiration for the late WCHA official.
"There is a genuine sincerity and politeness about him that defuses situations," Daniels said. "There's no question about that."
The level of support for Mousseaux in the wake of his accident was no surprise to Daniels, according to that same article.
"The hockey community at the collegiate level is a fairly small, tight-knit group, and there's no question how well liked universally Butch is," Daniels said. "He's such a positive and caring person. He has the prayers of everyone."
The level of concern on each person's face and absolute silence of the atmosphere was perhaps one of the most harrowing experiences of my life. I never knew Mousseaux, but it's obvious that his legacy touched the college hockey community, and his lifelong devotion to the sport will not soon be forgotten.
Donations for Mousseaux's family can be made here.