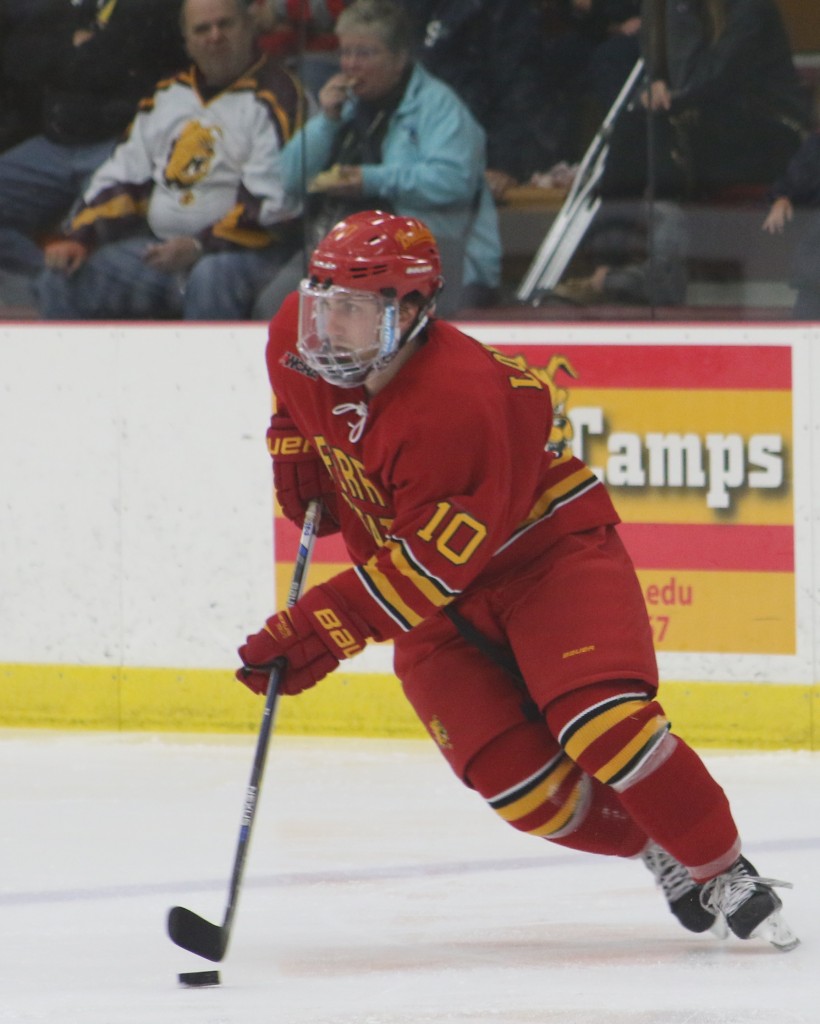 The levee broke for the Ferris State hockey team late in their 6-3 loss against the University of Denver in the West Region Championship game.
After trading goals with the Pioneers for nearly three periods, the Bulldogs gave up three goals in the final 4:32 of the game to end their shot at the Frozen Four.
Denver started the scoring when forward Danton Heinen capitalized on a power play to put the Pioneers up 1-0 just 5:34 into the game. The goal was assisted by forward Dylan Gambrell and defenseman Blake Hillman.
Ferris State answered on their second shot on goal of the game when junior forward Gerald Mayhew netted his team-leading 16th goal of the season. Mayhew received a long pass from sophomore defenseman Tyler Dorantes and capped off a breakaway with a wrist shot over Denver goaltender Tanner Jaillet's shoulder. Ferris junior forward Kyle Schempp assisted on the goal as well.
Gambrell would put the Pioneers up a goal when he scored with 1:20 left in the first period.
Ferris State struck back just a minute later to lock it up when freshman forward Corey Mackin tried to make a backdoor pass in front of the net. The puck ricocheted off a Denver player's skate and ended up in the back of the net with 20 seconds left in the first period.
Despite being outshot 15-3 in the first period, Ferris State still managed to score on two of their first three shots to head into the second period tied 2-2 with Denver
The second frame was a bit more docile as only one goal was scored. This one came from the stick of Denver forward Trevor Moore just 2:49 into the period.
Ferris State would respond for the third time of the night when Schempp rifled a wrist shot past Jaillet after receiving a beautiful pass from behind the net from Mackin to lock it up at 3-3 at the 7:17 mark of the third.
Denver doubled Ferris State's shot total 42-21 in the game, making it tough on Ferris State freshman goaltender Darren Smith. Smith made a barrage of saves to keep the Dawgs in it, but the offensive pressure of the Pioneers became too much for the Ferris defense and goaltender.
Ferris ended the season with a 20-15-6 record. The Bulldogs won their first WCHA Tournament Championship and reached the NCAA Tournament for the fourth time in school history.
Denver will advance to play North Dakota in the Frozen Four in Tampa, Fla. at 8:30 p.m. on April 7.