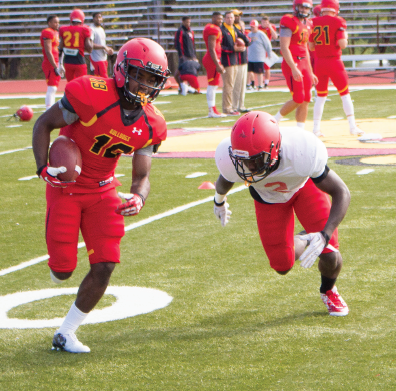 The Bulldog football team has seen a few outstanding seasons fly by under the command of head coach Tony Annese. The flowers are blossoming and the birds are chirping, which can only mean one thing. Spring practices have begun.
Ferris State football may never be the same without Jason Vander Laan at the helm, but with the end of the JVL era comes the dawn of a new one.
The team took to Top Taggart Field on Friday, March 18, for their first spring practice of the year. With the graduation of guys like Vander Laan, Justin Zimmer and Jake Lampman, the coaching staff are looking for other men to take charge. Bulldog offensive coordinator Ryan Brady is ready to see who is going to step up to fill big voids left by last season's senior class.
"Obviously, you do not replace a guy like Vander Laan," Brady said. "But it presents a great opportunity for a lot of guys at the quarterback position. Currently, all six quarterbacks are getting quality reps and all are making really good progress. Our expectations as a program will not change with the departure of guys like Vander Laan, Zimmer and Lampman."
Brady also talked about whether or not we can expect to see a shift in the play style for the 2016 season.
"Every year as a coaching staff, you tweak your system both offensively and defensively. This year will be no different," Brady said. "As a coach, you design and implement your system to fit the strengths of your players. We have recruited very well at Ferris State and every class has been better than the previous, so we are looking forward to seeing some guys, young and old, have breakout seasons."
Wide receiver Shakur Sanders will be entering his senior season with the Bulldogs. He was a dependable set of hands for Vander Laan last year, totaling six touchdowns on the season. Sanders said that we can expect to see a very similar offensive style but with less deigned quarterback runs.
"We will definitely throw the ball a lot more; the coaches want to utilize the weapons they have on the field," Sanders said. "The quarterback position will determine one thing and that is who the starter will be. The offense we are creating now fits all of our quarterbacks."
Both Sanders and Brady gave names such as sophomore running back Jahaan Brown, redshirt freshman wide receiver Malik Taylor, sophomore cornerback Jevonte Alexander and junior offensive lineman Jordan Williams as guys who should standout this season for the Dawgs.
The 2016 team will have big shoes to fill as a program. The Dawgs went undefeated in both the 2014 and 2015 regular seasons.
Ferris State football is currently slated to open up their 2016 regular season against the team who brought their 2014 undefeated season to an end, the Panthers of Ohio Dominican. Kickoff will be in Big Rapids at Top Taggart Field on Saturday, Sept. 3.