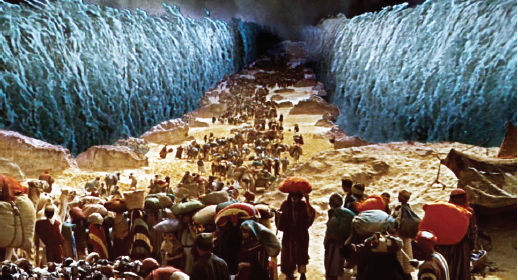 I've been asked, "What do Jews do for Easter?" many times in my life. The answer is, "Nothing. We celebrate Passover!"
Passover will begin at sunset on Friday, April 22 and commence at sunset on Saturday, April 30.
The most common religion in America is Christianity (77 percent of U.S. adults are Christian, according to a 2012 Gallup poll). Growing up as a Jew in a predominately Christian country, I learned at a young age that my religion was not very common, even though I grew up in southern New York, an area with the densest population of Jews in the U.S. When I came to Ferris, on the first day I moved into McNerney Hall, someone told me I was the first Jew he had ever met. This situation repeated itself so many times that I'm actually intrigued if anybody I know or meet knows anything about Judaism. The very few Jews and myself on campus definitely struggle to keep up with traditions and form a community. So far, I've met three or four Jewish students and actively speak to one.
The religious ignorance I've experienced at Ferris is astounding. I've been asked why don't I have horns, larger ears and nose, and why I'm not wearing that "funny little hat" (Yamaka). I've been told Hitler had great policies and was a great leader and I've been asked if I actually believe the Holocaust was real. The term "Jew'd" is a verb I learned that is used when someone feels they were ripped off or shorted.
The amount of times I've been in the presence of anti-Semitic statements or jokes is innumerable. Most of the time the anti-Semite does not know they are in the presence of a Jew, mostly because they have never previously knowingly met a Jewish person. Sometimes someone I know will respond with, "Hey Travis is Jewish," which then leads the anti-Semite to follow with, "Oh you know I was just joking, bro." I'm sure you were, bro. Lastly, I've been asked if I wished I wasn't Jewish. My response is, "Nah."
Each year on the first Sunday following the ecclesiastical full moon, Christians and other dominations celebrate the holiday of Easter, which is the resurrection of Jesus Christ. The only correlation between Easter and Passover is Jesus Christ's resurrection occurred during Passover, which falls on the 15th day of the Hebrew month Nisan. Occasionally celebration dates do overlap, but not every year, and not this year. Passover is an eight-day festival that commemorates Moses leading the Hebrew people out of slavery under the Egyptian Pharaoh around 1300 B.C.
For Passover, Jews have a Seder service and dinner on the first and second night of the holiday. The quickest Seder service I've attended was five minutes and the longest lasted three hours before I could finally eat. The gist of a Seder is to remember and understand the hardship of the enslaved Jews in Egypt and their exodus. The focal points of a Passover Seder are:
Eating matzah (or unleavened bread) to show that the Jews had to escape and take their bread that had yet to rise.
Eating bitter herbs to commemorate the bitter slavery Israelites endured.
Recite the 10 plagues, which is a divine demonstration of power by Moses to "Let my people go."
Recitation of the Haggadah–a liturgy that describes the Exodus.
Asking and answering the Four Questions of Passover by the youngest member of the table.
Singing songs and enjoying drinks and food while relaxing.
Besides having a Seder, many Jews will go to a Passover service at their Synagogue, and the Rabbi will recite Hebrew out of the Torah ("old testament"). While I attended religious school, my class would put on skits reenacting the story of Passover and sing Passover songs. An example of this would be the song, "Pharaoh, Pharaoh, Let My People Go!"
There is one Passover tradition similar to Easter egg hunts, which is the hiding of the Afikoman. The Afikoman is a half-piece of matzah broken into two pieces early in the Seder and eventually the head of the household hides the Afikoman somewhere in the house. The children search the house and the first two children to find both pieces win either money or candy.
So the question of what do Jews do on Easter can be answered quite simply: Go about our daily business as any normal Sunday and do our absolute best to not step on any rotten eggs.
Note: If you are a Jewish student looking for a Jewish community, please feel free to join the Ferris State Jews 2015- 2016 Facebook Group or contact the faculty adviser for Jewish students Dr. Barry Mehler at mehlerb@nullferris.edu.