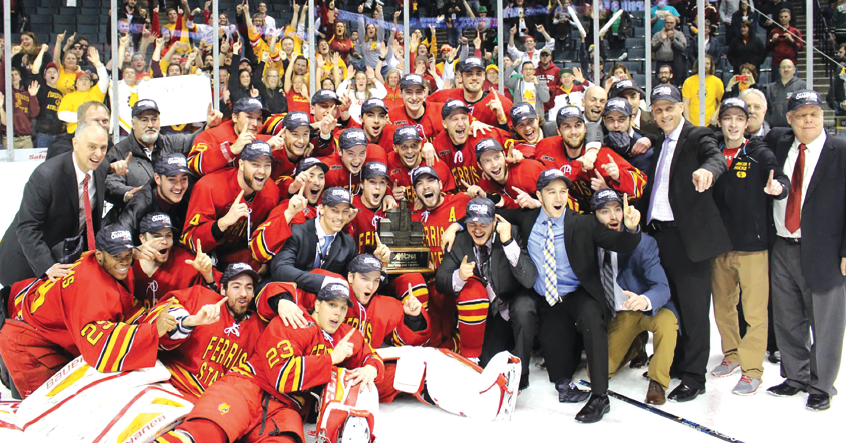 The levee broke for the Ferris State hockey team late in their 6-3 loss against the University of Denver, putting an end to the Bulldogs' 2015-2016 season.
Ferris may have fallen, but they definitely did not give up easy, which was a mirror image of the rest of their season. It was a grind, but the Bulldogs never gave up.
"There's a lot of heart in that locker room," said Ferris junior captain Kyle Schempp in a post-game press conference. "Lot of great, great guys, and great seniors that lead our team. It's a special group, one I'll always remember. Biggest thing I'll take away is the heart in that locker room."
The Bulldogs won their first ever conference tournament championship and reached the NCAA Tournament for the fourth time in Ferris history. Ferris State upset the No. 2 overall seed in the tournament and the No. 1 seed in the West Regional St. Cloud State in the first round of the NCAA Tournament in a 5-4 overtime win.
Ferris wasn't as fortunate against Denver, but the Bulldogs made it further than many thought they would.
"Obviously disappointed in the loss and still a lot of pain," said Ferris head coach Bob Daniels after the game. "The reality, I know I mentioned it to the guys, is 48 hours from now it'll be quite a bit of joy. We still have a conference title and NCAA banner, so there is a lot to be thankful for."
After trading goals with the Pioneers for nearly three periods, the Bulldogs gave up three goals in the final 4:32 of the game to end their shot at the Frozen Four.
Denver doubled Ferris State's shot total 42- 21 in the game, making it tough on Ferris State freshman goaltender Darren Smith. Smith made a barrage of saves to keep the Dawgs in it, but the offensive pressure of the Pioneers became too much for the Ferris defense and goaltender.
Ferris ended the year with a 20-15-6 overall record and a 13-11-4 mark in the WCHA. The Bulldogs will graduate seven seniors and will return 20 players next season barring any transfers.
Defensemen Zach Dorer, Brandon Anselmini and Sean O'Rourke, along with forwards Kenny Babinski, Matt Robertson and goalie Ruben Medrano, were all at Xcel Energy Center for their last game as Bulldogs in the game against Denver.
"It's tough to say goodbye to the seniors," said Daniels. "They have won a lot of games for us, two conference titles, two NCAA tournaments, two regional finals. It's really especially painful. For as long as they've been on the ice for us they've been that good."