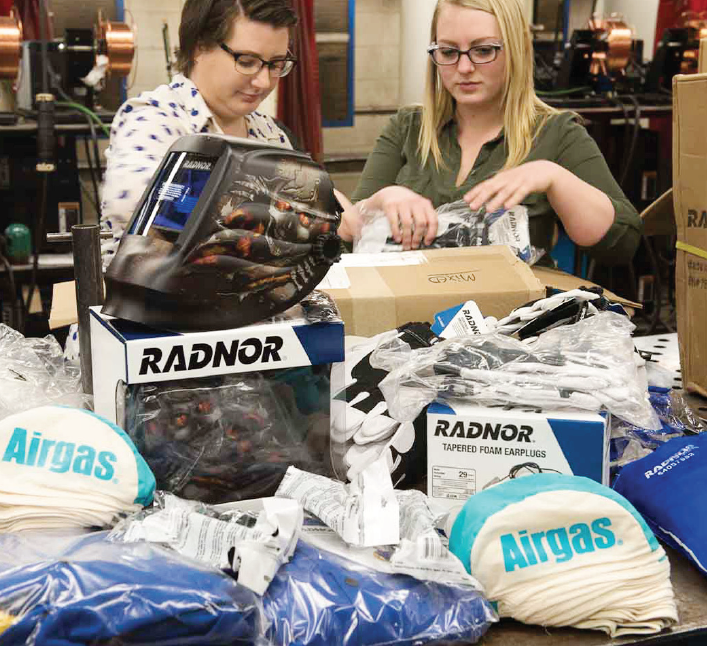 Students in Ferris State's welding engineering program can continue to work safely without the added costs thanks to a large donation from Airgas, Inc.
Airgas, Inc. is a Pennsylvania-based company specializing in the manufacturing and distribution of industrial, medical and specialty gases. It is the leading producer of atmospheric gases in the U.S. by volume and also supplies welding equipment and related products.
These donations stem from a partnership formed between the university and Airgas last year in an effort to boost welding trade and prevent the decline of skilled welders in the nation.
The donation—valued at $50,000—covers a range of personal protective equipment including welding jackets, hoods, gloves and safety glasses.
The donation saves cash for Ferris welding students, who generally pay for the required equipment out-of-pocket. The products are expected to last students in the program for at least one year.
"This way they don't have to provide that," said Jeff Hardesty, welding professor and program coordinator. "That's getting provided for them, courtesy of Airgas."
Airgas delivered the shipment before an eager group last Thursday, March 24, at the Swan building.
Safety equipment is vital in welding processes as welders are exposed to extreme heat, brightness and dangerous gases.
Airgas will also continue to donate shielding glasses, as it did last year, for use in welding processes.