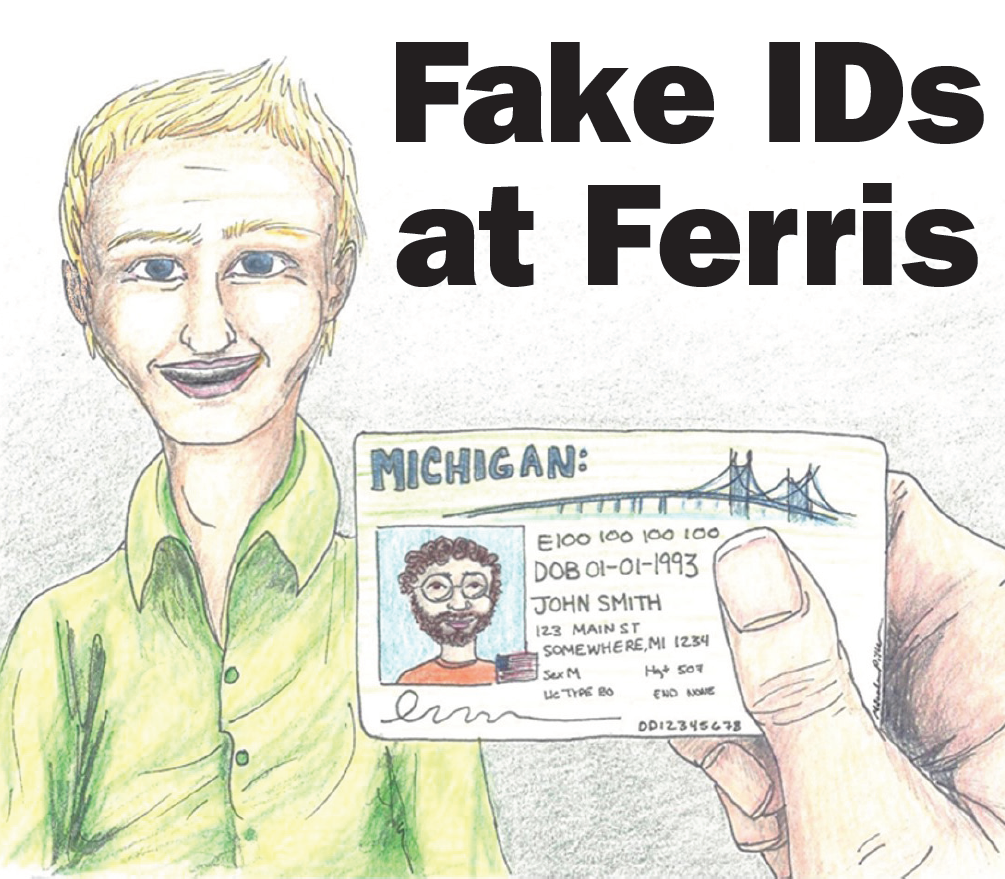 Fake IDs have opened the possibilities for underage drinkers to gain access to alcohol, bars and clubs.
A Ferris business administration sophomore who spoke on the condition of anonymity has a fake ID. He said most of the time identification cards aren't questioned and have all of the appearances of legitimate out-of-state government-issued identification.
"It's a website where you had to email a picture of your face on a white background, and you also send your information. You could pick your address or a random address. You could pick which state you wanted. Obviously, you don't choose Michigan if you live in Michigan," said the anonymous Ferris business administration sophomore.
When the ID came in the mail, it came in a box with a bunch of chopsticks because they couldn't just ship the IDs alone, said the anonymous sophomore. It's too suspicious and they'd most likely be nabbed by customs when they come to the United States.
"I would go over to the liquor store, they stared at me once or twice, but after that they didn't care," said the anonymous sophomore. "The only time I got caught with it was when I was on spring break in Panama. I tried to get into this concert, and the bouncer looked at my ID and said, 'This is fake.' I argued with him about it and told him everything he wanted to hear, that all of the information was mine. After calling his bluff, he let me inside. That was the only time I was ever questioned about it."
Minors and underage college students sometimes try less sophisticated methods to buy alcohol at the liquor stores in town. They try using an expired ID, saying they forgot their identification at home or by saying some of the other workers on staff know them. Along with less sophistication, these methods don't stand up to scrutiny.
"One time this kid came in and one of my coworkers at the time was a resident advisor at Ferris, and she said she knew him and he might be underage," said Grunst Brother's clerk and Grand Rapids Community College associate welding student Lucas Armand. "So I checked his ID and it was out of date. It had been expired for four years and it said he was 30 years old. I told him his ID was definitely expired, and I couldn't sell to him. He was cool about it and he left."
The Gate in Big Rapids takes an electronic approach to identifying fake IDs, using a method to read the information strip on government-issued identification. Security at The Gate also receives additional training on what real pieces of identification look like, so they know what to look for and how to spot fakes when they're presented.
"We have a scanner. If we can also tell that it's visibly fake, and if it doesn't scan, we'll take another good look at the ID. After that, if we don't think it's good, then we have to take it," said Ferris electrical engineering junior Jeff Stiver. "We give the card to the manager, and they can either take it up with him or they can leave."
Over the last few months, there have been five fakes taken by Stiver and the others who work security at The Gate.
Big Rapids Department of Public Safety (DPS) sergeant Jim Eddinger said they occasionally respond to calls at Shooters or The Gate for fake identification or minors drinking.
"It doesn't happen all the time, but it does happen fairly often where we'll get a call for people they've caught drinking underage. We'll give them the preliminary breath test (PBT), and we usually end up giving them a citation for minor in possession (MIP) of alcohol," said Eddinger.
What Eddinger urges everyone to do is be safe and be responsible. Being close to the end of the semester, there's bound to be more Thursday, Friday and Saturday night parties, and Eddinger encourages roommates, fraternities and sororities to be neighborly and responsible among themselves when it comes to who's drinking alcohol.
Minors who get caught with a fake ID can get a fine of up to $100 and, in some cases, jail time.