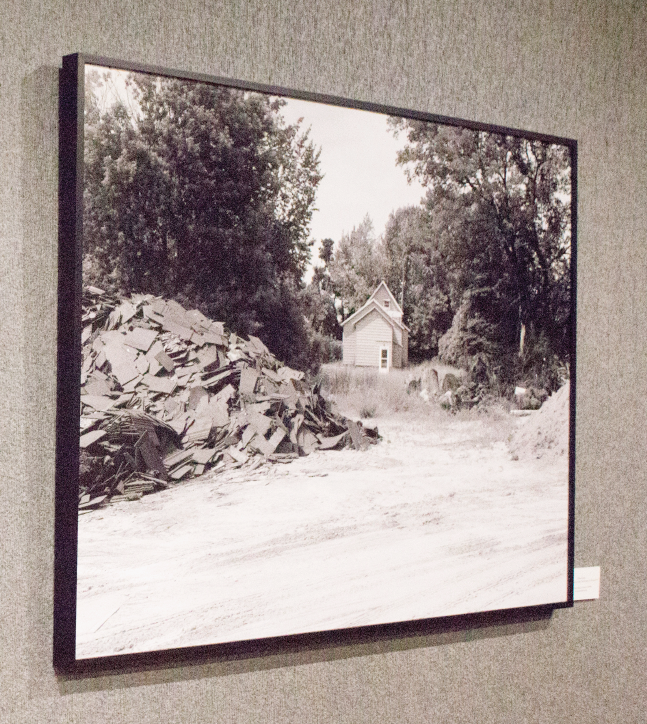 Oftentimes, it's hard to fully grasp the meaning of art; however, this is not the case for the "No Stone Unturned: Hybrid Landscapes and Eco Systems" exhibit.
The photographic exhibit, which opened at Ferris' Fine Art Gallery on April 4, was created by recent graduate from Kendall College of Art and Design Ethan Ross. Ross won The Master of Fine Arts competition in which the winner is awarded a solo exhibit. The solo exhibit was bought by Ferris and is part of its monthly rotation.
"Each exhibit is really unique. That's part of our goal, to be diverse not only in the medium and the genre, but in the concept and themes," gallery director Carrie Stermer said.
On display this month is a series of black and white photographs that show different parts of the environment and how humans have affected the landscape. The collection ranges from nature in the reflection of a commercial building to a tree with a pink ribbon around it, signifying that it is going to be cut down.
"We are trying to exhibit a lot of different works that will hopefully spark interest in our students," said Stermer. "I would imagine that anybody who has any interest on the impact they have on the environment would be interested in this exhibit. Each piece kind of addresses a different way of looking at how we impact the environment."
Ferris undecided freshman Colin Knapp was thoughtful about the collection."It's interesting to me. It's about places where no one seems to look," Knapp said.
Knapp's favorite photo, titled "It's a Really Nice Place to Raise a Family," is a picture of a quaint house surrounded by gravel and construction with a few lone trees left. He believed the photo was trying to prove a point.
"It shows one side of residential and the other side is mass construction," said Knapp. "That's because of us. Nature is gone because we need a road."
Ross will be at the Fine Art Gallery to talk about his exhibit at 6 p.m. on Thursday, April 7. Food and drinks will also be provided.
For more photographs by Ethan Ross, visit http://www.erossphotography.com/work