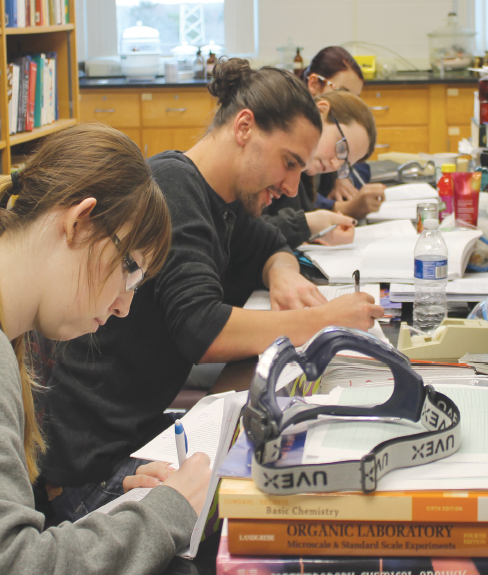 Beer and Wine brewery as a curriculum here at Ferris? That's exactly right.
After 60 consecutive years of offering an associate's degree in industrial chemistry at Ferris State, it was decided that a bachelor's degree in the field was much needed.
With such rapid growth in demands of manufacturers, along with the nationwide interest in producing beer, wine and distilled products, the value and worth of this program has been proven to increase over time.
According to Ferris associate professor of physical sciences Mark Thomson, there are endless opportunities in this field.
"It's important that they be made aware of the possibilities available in industrial chemistry," Thomson said.
With Thomson's longtime experience in home brewing, along with his teaching tactics in physical sciences, he uses a unique technique when giving students the knowledge needed to produce their own products.
He explained the two ways in which a student can go about the bachelor's program in industrial chemistry: through a manufacturing track or a fermentation track.
The manufacturing track has a concentration in engineering and statistics, while fermentation focuses more on the hospitality and food safety aspects of the industry.
Fermentation primarily focuses on the production of beer, wine, cheese and yeast, ultimately allowing students more hands-on experience in their desired field of study.
As the 2015-16 academic year began, Thomson was informed that they received their first declarations for a Bachelor of Science degree in industrial chemistry and several students who took interest in the program intending on changing majors.
He anticipates the pursuit of a bachelor's degree in industrial chemistry to increase and is hoping to see rapid growth of up to five to 10 students a year.
"I'm all about pushing students into directions they haven't been pushed before [and] exposing them to things that they haven't thought about before because this program has done that for me," said Thomson.