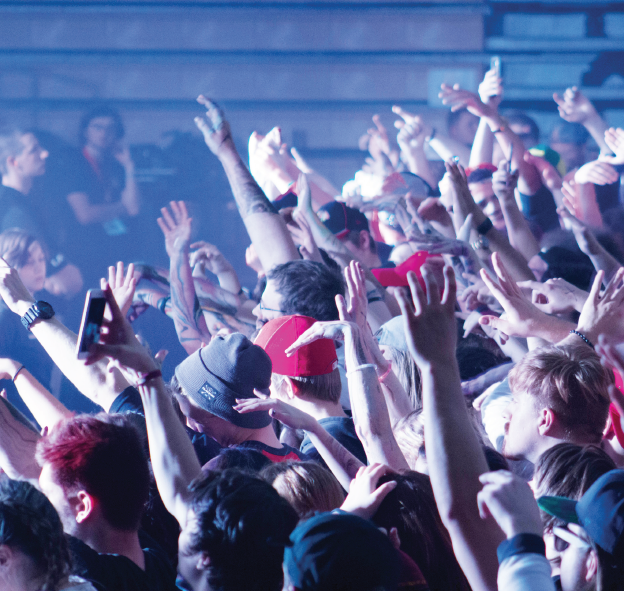 Ferris State's sixth annual Turn Up The Good (TUG) music event returned Friday, April 8, to a crowded Wink Arena.
The concert, a showcase coordinated by Ferris' Music Industry Management Association (MIMA), featured artists Zeds Dead, Nato Feelz, Hans Play and FSU's own DJ CHoFF.
Over 1,000 students and concertgoers were in attendance making it the highest turnout in the spring event's history.
"The outcome of TUG blew away all of my expectations," said Ferris senior in MIM Nikki Janeczek, who is also a MIMA member and TUG's coordinating booking agent. "This show is the largest show that MIMA has ever produced. Our attendance alone has proved that TUG was a success."
The show kicked off at 8 p.m. with DJ CHoFF and special guest Hans Play while the crowds were still small. The artists played a range of standard electronic fare serving as an appetizer to the main event.
Nato Feelz, aka Portland native Nathan Fields, offered an array of glitch hop, house and dubstep mixes, including some songs recognizable to an audience singing along in tandem.
By the time headlining act Zeds Dead took the stage at 9:45 p.m., the arena was thoroughly filled, with attendees still pouring in from the heavy snowfall outside. The Toronto-based duo played a wide assortment of music from many different genres and influences. Many in the crowd were familiar with the group's work, shouting requests and forming the trademark "Z" with their hands.
"The vibe is more than expected," said Ferris pre-physical therapy sophomore David Kash. "I've been to a rave and didn't know how Ferris State would manage it. It's way more than expected."
Black Light Visuals, a Michigan-based company, was present offering free temporary body paint arm dips to the first 200 participants.
Though successful, Turn Up The Good was met with a few minor hitches according to some in attendance.
The event was booked alongside a three-on-three hockey tournament, which was a minor nuisance to hockey players having to bypass the crowd to access the locker room.
Heavy security detail delayed participants entering the event, with many still in line towards the end of the evening. Two arrests were made for a minor in possession and disorderly conduct, respectively, with warrants still awaiting for drug possession including MDMA, according to Ferris Department of Public Safety (DPS).
It was a return to form for MIMA, whose previous Turn Up The Good events had been declining in ticket sales and recognizable artists the past few years.
"Before the show had even started we had people asking us to extend the show time past 11 p.m. and by the end of the night we had people begging for an encore," said Janeczek. "Turn Up The Good sixth edition was a major success and I am so proud to have worked with such talented people."
Ferris pre-pharmacy freshman Hannah Phillips put it shortly, "It's lit."