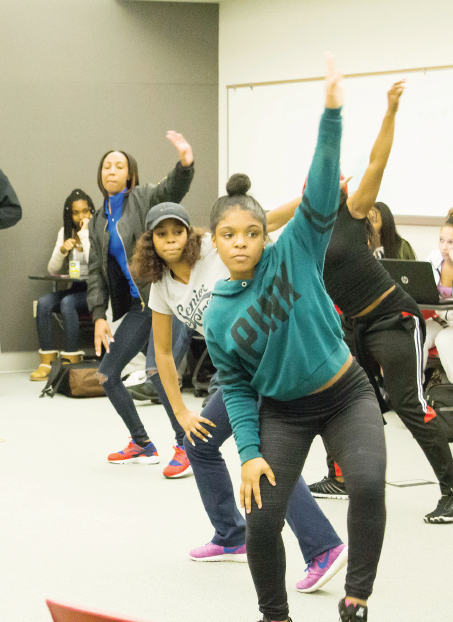 The members of You Beautiful Black Woman (YBBW) are taking viewers on a trip around the world this year for their annual fashion show.
The theme for this year's show is national and international travel. Models will be representing the Detroit area, New York, Miami, Las Vegas, Africa and more, even including a tribute to Flint. Hosting the fashion show this year is Erica Dixon, a star from the TV show "Love & Hip Hop: Atlanta."
Local stores such as Maurice's and Rue 21 are providing clothing for the show. Modeling the clothing, which will be coordinated to pertain to the location being represented, will be Ferris students who were found via open model call by YBBW.
Jada Dill, a freshman YBBW member who is studying elementary education with a minor in math and science, is helping put the show together.
"We have models from all over campus," said Dill. "The majority of our members aren't in the show, since we need help behind the scenes."
Since Dill is a freshman, it's her first year helping to put on the show.
"It's bigger than what I thought," said Dill. "I know it will be a great show. I know that without a shadow of doubt, but I'm just ready for it to be here so we can relax and have fun at the event."
The event is chaired by Ferris political sciene senior Shan Tal' Eligah, and co-chaired by Ferris criminal justice senior Jazmine Goode.
"I'm the most excited about seeing it all come together," said Goode, who has been working hard alongside the other members of YBBW all of the academic year to put on the production.
Goode also said that viewers in the audience will have a good view from their seats, due to the set-up of the runway at the Holiday Inn.
"We just love how their runway is set up, how the lighting works in their ballroom and how it's a closer feel for the audience, so they're not so far back," Goode said. "They're surrounded by the whole runway."
"I hope it's a great turnout and that they enjoy the show," said Goode. "I also want to thank all of the models and the boutiques for participating."
The YBBW fashion show is Saturday, April 16, from 8 p.m. to 10 p.m. at the Holiday Inn and is free to attend.