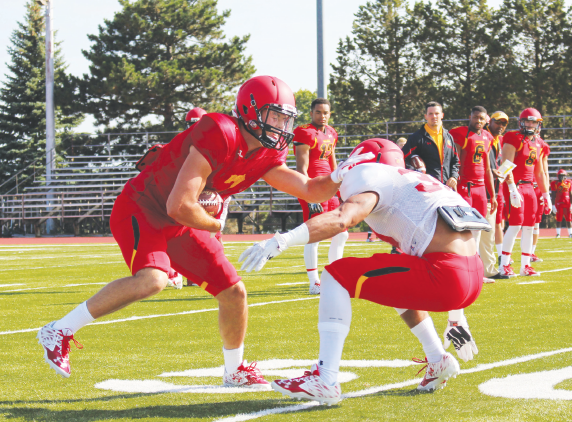 Ferris football has gone through a change in spring training after graduating some key players and will put those changes on display in the annual Crimson & Gold Spring Game this Saturday.
The team lost leaders on both sides of the ball this offseason with All-Americans Jason Vander Laan and Justin Zimmer leaving, but multiple players are filling that void.
Junior linebacker Anthony Darkangelo said, "Leadership is coming from a lot more people now and that makes us better."
Vander Laan is considered the best dual-threat quarterback in collegiate history by some after breaking the record for most career rushing yards by a quarterback last season. The offense operated primarily around him and his running ability. With him gone, the Bulldogs have moved to a more pass-heavy offense.
Junior receiver Jamel Lockett said, "Jason was a bigger, running quarterback and we got a bunch of guys that can throw the ball this year. We're evolving into a passing team with more run-pass options."
As of now, it appears that the quarterback position is up for grabs with three quarterbacks rotating practice reps.
Lockett said, "Every time we run a play, there's another quarterback in."
The defense has had a more seamless transition than the offense. Most of the key players are in tact with nine out of 11 starters returning. One of those players is the second leading tackler from last year, Darkangelo.
Darkangelo said, "We're not doing too much different than we did last year, but we're all a year older and more developed. We're ten times better than we were last year on defense."
The Bulldogs have won back-to-back GLIAC championships and currently ride a 25-game regular season win streak. New assistant coach Kyle Nystrom knows about the dangers of success from his days at North Dakota State with consecutive 10-1 seasons.
"I was always desperately worried about my players staying hungry, staying desperate," said Nystrom. "It doesn't matter what you've done. What matters is what you do today, tomorrow and the rest of the way."
Complacency has not set in for the Bulldogs because they know there is another season of work that needs to be done. However, they are still confident in being contenders in the GLIAC.
Lockett said, "We should still be in contention. It's just what I expect now."
The Dawgs will put the results of their spring training on display in the spring game. It will be their first live action since the fall.
Darkangelo said, "It's an opportunity to develop yourself and get some live action. It's nice because you get to play with the team again."
Nystrom says that the format for this year's spring game will depend on "numbers and health." This will determine whether they divide the team into two whole teams or play starting offense vs starting defense with players rotating.
There is a balancing act when it comes to players' health and playing experience in this game. The coaches do not want their players to get hurt in a scrimmage, but the scrimmage is necessary for player development. In addition, play calling will be held back to avoid revealing their schemes to other teams.
Nystrom said, "You don't want to show much, but you want to get everyone to play and make this game a celebration of the end of spring."
Spring training will culminate with the spring game on April 16 at 1 p.m. on Top Taggart Field.