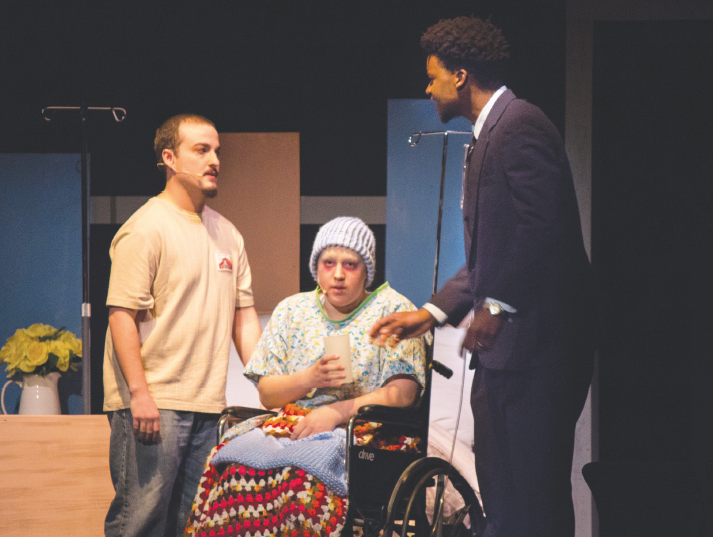 The Ferris Theatre group brought a quadruple
perspective of loss and grief to campus with the spring production of "Infinite Black Suitcase."
Four seemed to be the magic number for the theatre department this spring, as the fourth month of the semester brought us a four-night showing of a play showcasing four families overcoming grief and handling death. The production was a spotlight piece and told the story of multiple fictitious families in Oregon who were each losing a family member or friend to a different form of death.
"It really depends on the person watching how it can be interpreted," said Ferris pre-pharmacy junior Catherine Dato. "It's a very relatable play and I think everyone can understand being in one of their places."
The entire show took place over the course of a single day and the spotlight jumped scenes between a hospital room, the cemetery, the bar and more. It covered a wide range of topics, including suicide, cancer, a car accident and old age. Each cast member was dealing with the grief a different way, providing drastically different roles for each participant.
"We had a great time preparing for the show and everything worked out pretty well," said Ferris sophomore Kyle Parsley. Parsley played the role of Stan Kalinski in the play, a man tasked with helping his sister deal with her husband's suicide. "Even though the show itself was sad, every rehearsal was full of laughter."
The spring play was meant to provide contrast to the Ferris Theatre's fall production of "Dirty Rotten Scoundrels," a comedic musical. Though the spring piece was themed around grief and loss, the play had humorous undertones and provided a relatable context for any audience member