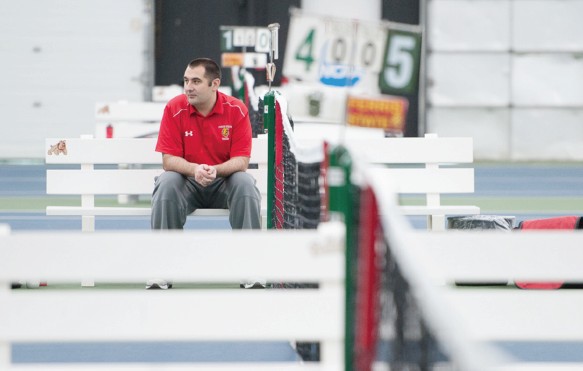 Chad Berryhill has a lot on his plate as the head coach of both the Ferris State men's and women's tennis teams.
Before taking the head coaching positions at Ferris in 2012, Berryhill, a Ferris State alumnus, was the assistant coach at Central Florida, an NCAA Div. 1 team. The task of coaching two separate teams may not always be easy, but Berryhill does what he must to meet the needs of all of his players.
"The biggest challenge we have is when both teams compete at the same time," Berryhill said. "Obviously you can't be in two places at once so you have to choose what team you are going to spend your time with. When the women are in season in the fall, I spend my time with them at the matches and vice versa in the spring when the men are in their main season. Last year both teams qualified for the NCAA tournament and at different sites. It is tough when you have to choose what team you are going to go with because you don't want the other team to feel neglected."
Berryhill added some help to the team when he appointed Danny Hunt as his assistant coach. Hunt also graduated from Ferris from the professional tennis management (PTM) program.
For the women, Berryhill is happy to see some of his injured players returning to action to make for a stronger lineup.
"I like how flexible the team has been in helping us establish our doubles line-up as we haven't had a lot of consistency with our pairings aside from our three doubles team of Janie Sell and Sydney Berens," Berryhill said. "I really like how hard the team competed in our last two matches against the University of Missouri-St. Louis and the University of Indianapolis. We need to continue to play with high energy in doubles to set the tone of the match."
Berryhill likes that the men have been able to pull out tough matches even when the team has not been playing their best tennis.
"We have a young team, but a team that wants to get better, so our practices as of late have much higher energy and intensity because we know we have some big matches coming up," Berryhill said. "I would like to see us play with more energy in doubles as well and have all of our players play with more confidence in their singles matches as we have had some struggles as of late. I think we are going in the right direction."
Though a lot of hard work goes in to being the head coach of two teams, Berryhill still finds the time to step back and enjoy the work that he is doing to help ensure success for his student athletes.
"The most rewarding thing is seeing the players improve and reach their goals and potential," Berryhill said. "It is fun to watch them grow and mature and watch them over the years as they transition from underclassmen who follow the seniors to become leaders on the team that have the new players follow them."
The men are currently undefeated in conference and sit atop the GLIAC with a 15-4 record and a 5-0 record in conference. They have only five matches left to play before the GLIAC Championships begin on Friday, April 29, in Midland.
The women finished their regular season play last Saturday and now must wait until the end of the month for the official NCAA Tournament selections to be announced. The team compiled a record of 15-9 and went 8-3 in the GLIAC. Their NCAA Midwest regional will begin on Friday, May 6.