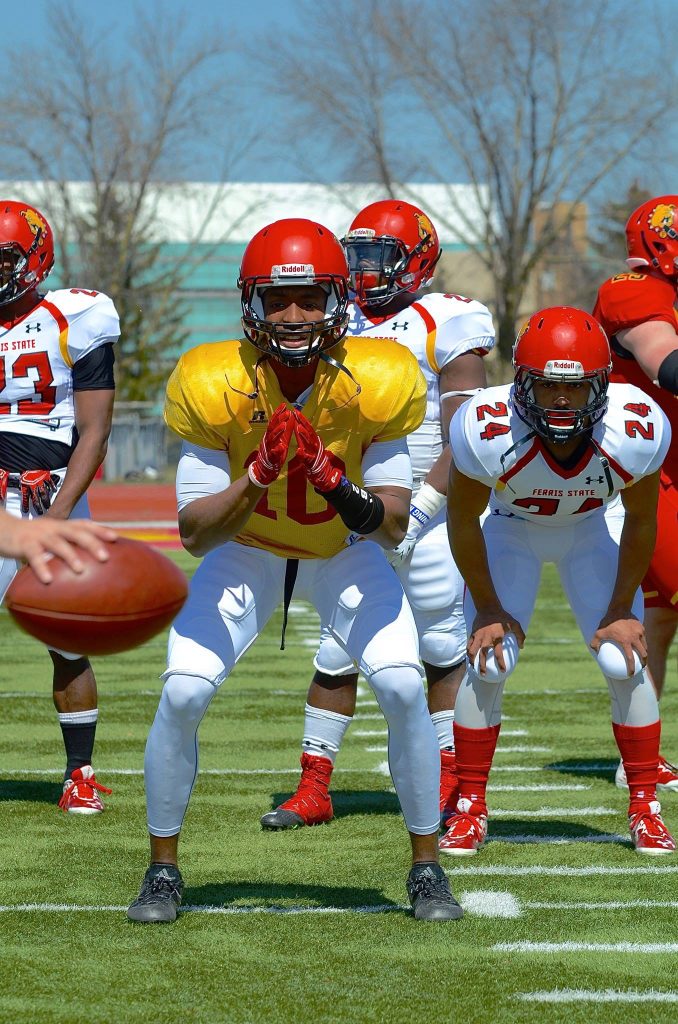 Team White took down Team Red in the annual Ferris football Spring Game on a last-second goal line stand from one yard out.
With 8:35 left in the game, junior quarterback Trevor Bermingham threw a dart to redshirt freshman receiver Malik Taylor for a 54-yard touchdown to put Team Red up 19-11. Team White responded with a drive earning three first downs including a fourth down conversion inside the redzone for first and goal.
Eastern Michigan transfer quarterback Reggie Bell threw a touchdown pass to receiver Marquel Hines to put Team White up 22-19 with 0:27 left in the game.
At that moment, Bermingham had 27 seconds to get his team the length of the field and score. The battle between these two quarterbacks had raged all afternoon, with both putting on impressive performances. On the final play of the game, Bermingham had a shot win the game.
A few plays later Team Red was set at first and goal from the one. On the first play, Bermingham completed the ball to his receiver near the corner of the end zone but out of bounds. After a stuffed sweep, Team Red called a timeout.
With four seconds on the clock, Team White was down 22-21 with third and goal. The ball snapped to Bermingham in the shotgun but he threw the ball incomplete after sitting in the pocket all four seconds.
Most of the scoring took place in the fourth quarter which is evidence of the defensive effort from both squads most of the game. The defenses were limited slightly by not being allowed to hit Bermingham and Bell. Of the five quarterbacks that played, they were the only two that were protected by this rule.
The three other quarterbacks didn't receive the same immunity, so they were able to showcase their running ability. Freshman Travis Russell ran through many tackles and earned first downs for the white team. He also threw a 60-yard touchdown pass to sophomore receiver Jalen Couch.
The other two quarterbacks, freshman John Higgins and sophomore Landon Grove, were on Team Red. Both had a few completions.
The Spring Game was the conclusion of 2016 Spring Training for the back-to-back GLIAC champion Bulldogs. They will open their schedule next year at home against Ohio Dominican on Sept. 3.