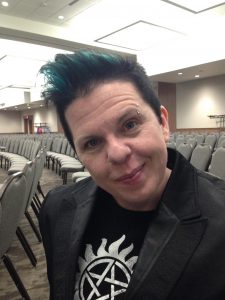 To be one's true self is, ironically, one of the hardest tasks facing youth today, and finding a good role model isn't much farther down on the list.
Earlier this week, D-SAGA hosted the Queer Monologues at Ferris that included guest speaker and New York Times bestselling author, Zac Brewer.
In only an hour, Brewer won the hearts of everyone in the room. Not only did he speak about being transgender, he also spoke about abuse, depression, suicide, anxiety and writing as a form to therapy. After his speech, he took the time to speak with each and every one of his fans, or minions as he would say.
Brewer's 'Deadname', the name he was given at birth, is Heather, which is the name under which many of his books are published, for example The Chronicles of Vladimir Tod.
He was born on September 21, 1973 in Lapeer, Michigan and grew up in Columbiaville, Michigan. Brewer realized he was a writer when he was 12 years old, but was raised in a poor family that discouraged him from following his dreams. The third oldest of five, Brewer was often abused at home and bullied at school, taking comfort in the library where his passion for literature grew.
Although Brewer never graduated with a degree, he attended Ferris State University until he became pregnant with his son at age 19. He met his husband two years later and they are still married to this day. Brewer currently lives in Missouri with his husband and their two kids.
In his early 30's, Brewer finally came to the realization that he was transgender.
He achieved the strength to pursue his authentic self through writing, which he feels is a form of therapy. Although afraid to tell others of his realization, he eventually mustered up the courage.
"When you trust someone, they will either surprise you and support you or fulfill your expectations and leave," Brewer commented.
To his surprise, his husband and two kids were extremely supportive, as well as his agent. After releasing this announcement to the public, he was able to publish all his recent books under Zac Brewer.
Now Brewer does much more than writing books as he encourages others to find their own authentic selves and has become quite the role model for today's youth.
"Whatever your truth is, it's a beautiful thing. Please chase after it and embrace it because it's so important to own your weird," Brewer encouraged. "Just be a complete individual and stand up for who you are."