Angela Graf | Demo 64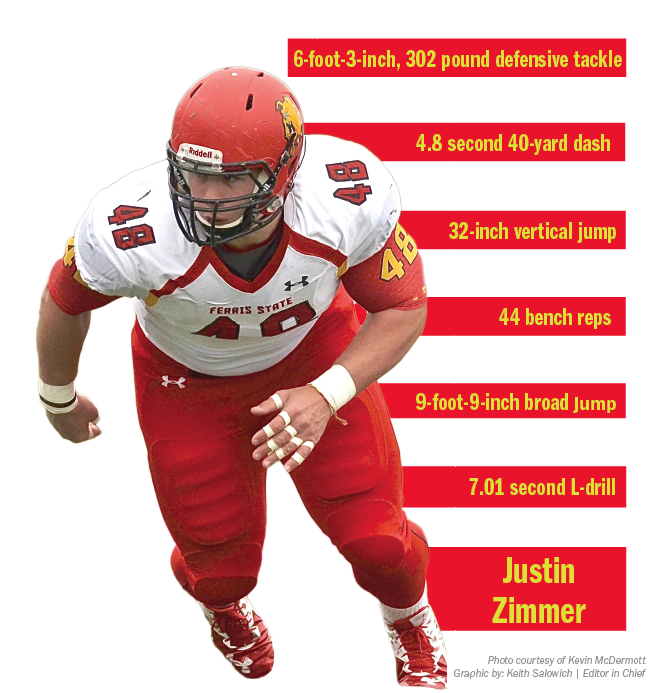 With the 2016 NFL Draft closing in, five Bulldogs are preparing for a shot at the professional ranks.
Jason Vander Laan is a two-time Harlon Hill trophy winner and the only quarterback in NCAA history to run and pass for over 1,000 yards in all four seasons. However, he may need to switch positions for a spot in the NFL.
At both of his pro days and his workouts with the Chiefs, Ravens and Cowboys, Vander Laan worked out as a tight end as well as quarterback. He understands blocking schemes from a quarterback perspective, but actually executing them as well as running routes and catching is all new territory.
Vander Laan said, "It's feeling comfortable and I'm ready to transition if that's needed."
Vander Laan broke the NCAA record for career rushing yards by a quarterback with 5,953 yards. He also totaled 8,240 passing yards.
This All-American has shown an NFL arm connecting with his speedy receivers down the field regularly at Ferris, so scouts are not ruling out his quarterback ability just yet.
The biggest transition to the NFL as a quarterback will be going from a shotgun offense to a primarily under center pro offense.
"At Ferris, I maybe took three or four snaps a year under center. It's something I'll have to get used to," Vander Laan said.
The man that caught more Vander Laan-thrown balls than anyone is receiver Jacob Lampman. In the four years they played together, Lampman totaled 157 receptions for 2,206 yards and 25 touchdowns.
Lampman hasn't had any private workouts with teams but he feels this is not a knock to his draft status for the scouts already have the film and measurables they need.
"I'm a different style of receiver that the NFL hasn't seen much of in terms of my physicality as a blocker. I have some of the best hands and routes in the draft and I'm definitely the strongest receiver in the draft," Lampman said.
Lampman ran a 4.47 second 40-yard dash and recorded 27 bench reps at the Michigan pro day. That ties an NFL receiver record for bench reps.
He led his team in receptions twice, but the man who edged him out this past year was Antonio Agurs. Agurs totaled 65 receptions for 641 yards and two touchdowns in 2015.
Agurs played a critical role for the Bulldogs as the team's primary slot receiver the past two years. He outshined all receivers at the Central Michigan pro day posting the fastest 40-yard dash time, short shuttle time and the longest broad jump. He ran the 40 in 4.47 seconds, did the short shuttle in 2.6 seconds and had a 9-foot-10- inch broad jump.
He was approached by multiple scouts at the pro day but no private workouts have been held.
Perhaps the Bulldog with highest draft stock is All-American defensive lineman Justin Zimmer. He has amazing athleticism at 300 pounds posting a 4.8 second 40-yard dash and a 9-foot-9-inch broad jump at the Michigan pro day. This translates into an incredible burst off the line. However, multiple scouting reports say he comes off the line "too high."
"Nobody comes out spotless. Everyone has something to improve on and that might be one of them for me," Zimmer said.
This is a small critique compared to his overall production. He broke the Ferris single season record in 2015 for tackles-for-loss with 26, 13 of which were sacks. He also led his team last year with 83 tackles. This is a notch that is rarely held by a defensive tackle.
Many teams around the NFL are looking at Zimmer, but determining the teams' interest is anyone's guess but the team officials.Speculative reports have seen Zimmer's stock a n y w h e r e from the late third round to the seventh.
Another Bulldog lineman vying for an NFL spot is offensive tackle Cody Dingeldey. Dingeldey participated in the Central Michigan pro day when he posted the third highest bench rep total of the day with 31.
Dingeldey started for the Bulldogs since 2013 and has anchored a line that created running lanes and kept a clean pocket for Vander Laan.
These players make up Ferris State's most lucrative draft class in years. Having earned back-to-back GLIAC championships and 25 straight regular season wins, these players helped Ferris football become an elite program.
"This is a stepping stone for Ferris State football," Lampman said.
If these players are drafted, it will shine a light on Ferris for potential future talent. High school recruits looking for a destination should take notice of the Dawgs' success, and couldcarry on the legacy that these five seniors have put in place.
The 2016 NFL Draft will take place Thursday to Saturday, April 28-30, in Chicago, Ill.