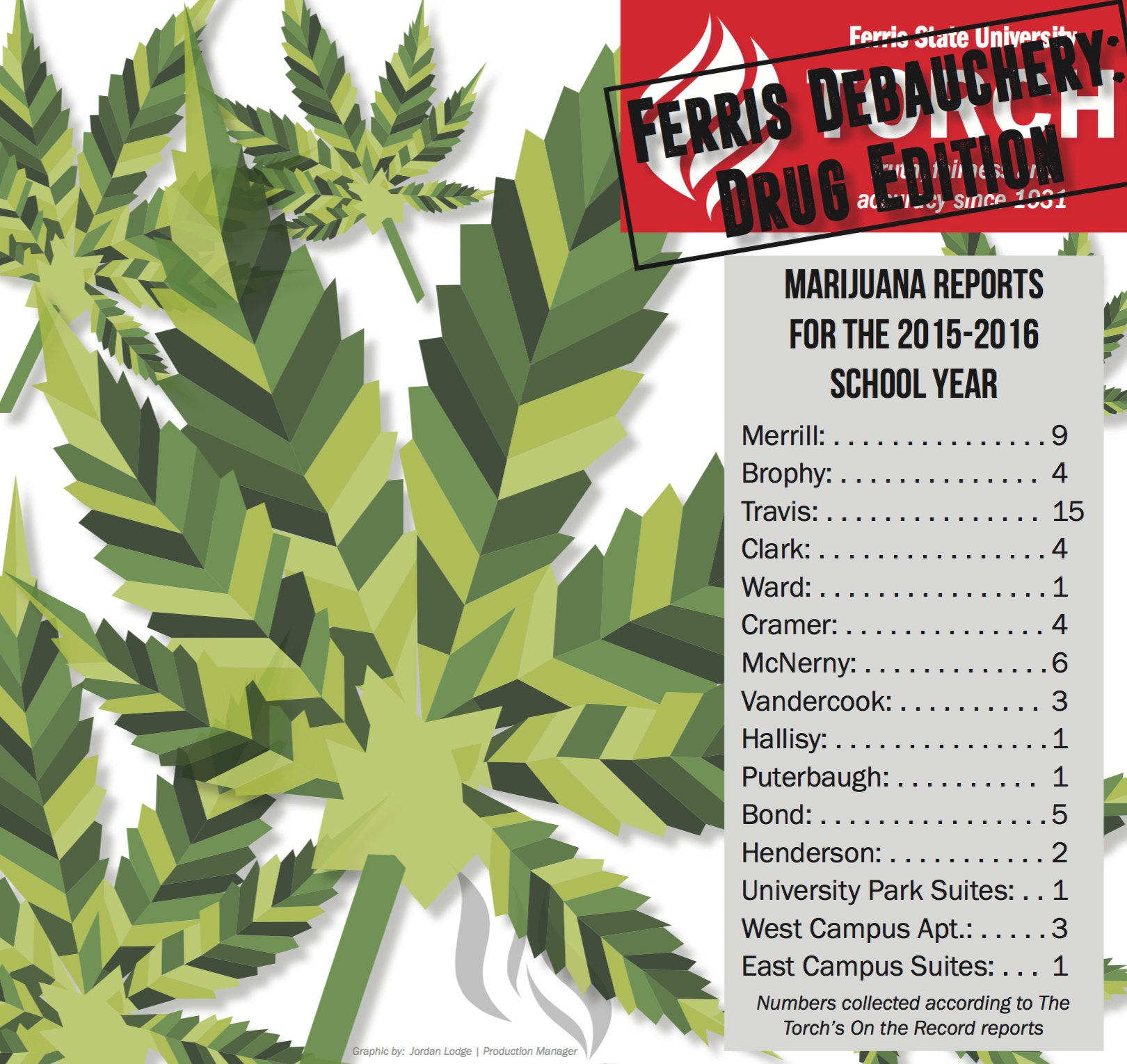 Students at Ferris and across the country are becoming more and more lenient when it comes to marijuana use, mirroring the results of the University of Michigan's research.
The research found that marijuana usage rates are climbing as students start looking at the drug as not a big deal or even beneficial, and many are pushing for legalization.
Ferris plastics senior Omar Alkatie believes that it should be legalized for a variety of reasons.
"There is overcrowding in prison. Too many people get in trouble or lose financial aid because of it," Alkatie said. "It could be beneficial if we taxed it."
Legalizing weed seems to be a popular opinion on campus. Ferris automotive management junior Stephen Progar shared the same view when it comes to decriminalizing marijuana.
"I think small amounts should be legal, to cut down on crime," Progar said.
According to USA Today, this is the most the drug has been used in 35 years, claiming that one in 17 college students lights up every day. With more and more people smoking, students seem to be caring about it less and less.
"It's their life choice. If they want to do it, let them do it. Nothing above them, nothing below them," Alkatie said.
The research conducted by the University of Michigan also showed that the percent of students using marijuana once or more in the past 30 days went up from 17 percent in 2006 to 21 percent in 2014. Students at Ferris think these numbers could be even higher.
"I think that is low. More students smoke marijuana," Alkatie said.
In contrast, non-smokers appear to be taking a more laid back approach when it comes to their peers wanting to use the drug as well.
"I don't particularly care if people smoke," Ferris mechanical engineering technology junior Paul Buerer said. "As long as they're responsible."
Although most students are leaning more towards legalization, there are still some who are reluctant to hop on the weed wagon. Ferris pre-pharmacy sophomore Rachel Dubuisson is one of these students.
"I'm not really a fan," Dubuisson said. "I don't think there are any benefits so I don't think it should be legalized."
Then it comes to people who do enjoy the occasional hit, students who do not smoke appear to be less likely to surround themselves with them.
"It's not my lifestlye, it's not who I would choose to hangout with," Progar said.
Whether it's an occasional joint or a daily occurrence, there's no question that marijuana use is and has been increasing.
For more information on the survey go to www.ns.umich.edu.