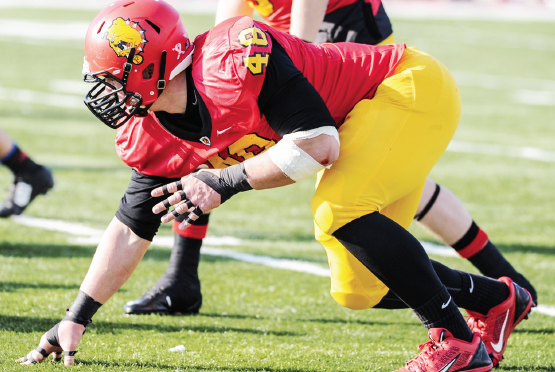 Ten days from now a lot of college football players lives will change. Some will hear their name called, some will get a tryout and others might not even continue their football career. We are talking about the NFL draft and our former Bulldog Justin Zimmer.
Zimmer has put a lot of work into getting to the next level and is on the NFL radar for multiple teams, but the one team that I think could really use his skills are the Detroit Lions.
How could Zimmer fit with the Lions' defensive scheme, you might ask, but it really makes a lot of sense if you think about it. Zimmer is very athletic and raw, but if he was put into a 3-4 defense he could excel at breaking up the pass.
With his elite quickness and burst rushing off the edge and through the middle, Zimmer can attack the ball each and every play because he is intelligent and athletic enough to blow up screens, play action and read option plays.
The Lions are looking for help on the offensive and defensive line, but since Zimmer could play defensive end or defensive tackle, he could be that versatile player the Lions need on the defensive side of the ball.
If the Lions decided to pick him up in the draft, Zimmer could possibly be one of the best steals out there. Zimmer is also from Greenville, so the Lions would be drafting a homegrown player.
The only thing holding Zimmer down is the level of competition he competed against at the Div. 2 level. Zimmer has excelled in every other test that has been thrown his way. Zimmer is doing what everyone else preparing for the draft is doing now—waiting.
So if you end up watching the draft in 10 days, don't forget how stressful it is for the players looking to continue their career. Zimmer is going to be watching, waiting and hoping that he will get that phone call that will change his life.