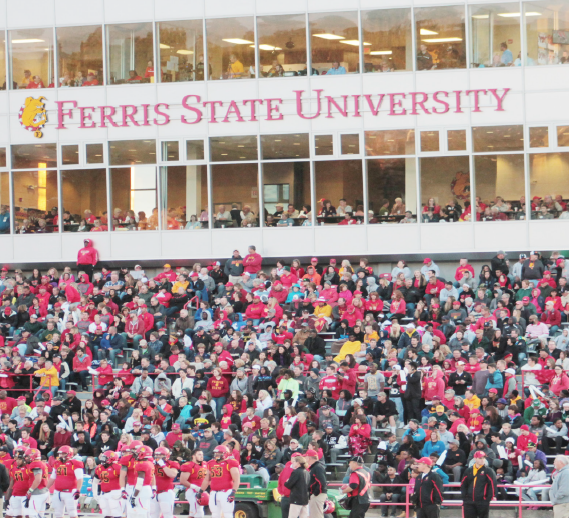 The surge of dominance in recent years for Ferris State's athletic programs has left a mark on Michigan's athletic leader boards.
Research conducted by Bulldog journalism senior Harrison Watt and Bulldog sports communications senior Nick Owens showed that for the 2015-2016 athletic season, Ferris State football, volleyball and men's basketball held the best combined record among all schools in the state, regardless of division, at 68-14 with a .829 winning percentage.
Football, men's basketball and volleyball all won their respective GLIAC titles this season. Basketball won the GLIAC Tournament Championship, football won the league outright after their second undefeated regular season in a row and volleyball led the GLIAC in the regular season and won their GLIAC Tournament.
Men's basketball head coach Andy Bronkema, who recently recruited some new talent, told ferrisstatebulldogs.com that he believes Ferris State's athletic reputation helps him a great deal in the recruiting process.
"A big credit for our recruiting success goes to the overall state of our athletic department at Ferris State," Bronkema said. "There is a lot of hype around many of our teams right now and that is translating to popularity. We're extremely excited about these guys and what they mean to the future of Bulldog Basketball."
Hannah Guy will be a redshirt sophomore on the volleyball team for the 2016-2017 season. She said that she thinks Bulldog athletics have done well because of the hard work and determination that Ferris State exhibits.
"Success is not just something we wish for, we set ourselves to a standard to be successful and that happens with extra reps in the gym, waking up at 5 a.m. for morning workouts and keeping strong teammate and friend relationships on and off the court," Guy said. "And I think that is where recruits come in."
Guy elaborated on why she thought recruits, specifically for volleyball, would choose Ferris.
"We are not just teammates in the gym, but outside of the gym we are like sisters," Guy said. "We do everything together, and honestly that is one of the reasons I came to Ferris. The team was so welcoming and I knew it would be a perfect fit. And of course, everyone loves to play on a team that wins."
Ferris State sits at the top of the leaderboard with their 68-14 record, followed by Div. 3's Hope College in the number two spot with a 50-19 record and .724 win percentage. Coming in at the third spot is Div. 1's Michigan State with a 60-22 record with a win percentage of .681.
At the fourth spot sits GLIAC rival Grand Valley State University with a 50-26 record and .657 win percentage. Another GLIAC competitor, Hillsdale College, sits in the fifth position with a 46-24 record and .657 win percentage as well.
Only one Div. 1 team, Michigan State, graces the top five of the chart. The GLIAC conference itself hosts three top five spots with one representative from Div. 3 in Hope College.
Shakur Sanders will be a senior receiver on the football team for the start of the 2016 season. Sanders is confident and straight to the point when it comes to why Ferris State is so dominant and why recruits should come to Ferris.
"I think it is because we started something new here at Ferris when the new football coaches came and changed the atmosphere," Sanders said. "That helped the community, and that helped the other teams. We support everyone and every team, and it helps recruiting because people love a competitive and winning environment, and that is what we have."
The recurring theme among the athletes of a "winning environment" certainly exists at Ferris, and the .829 winning percentage for the football, men's basketball and volleyball shows just that.