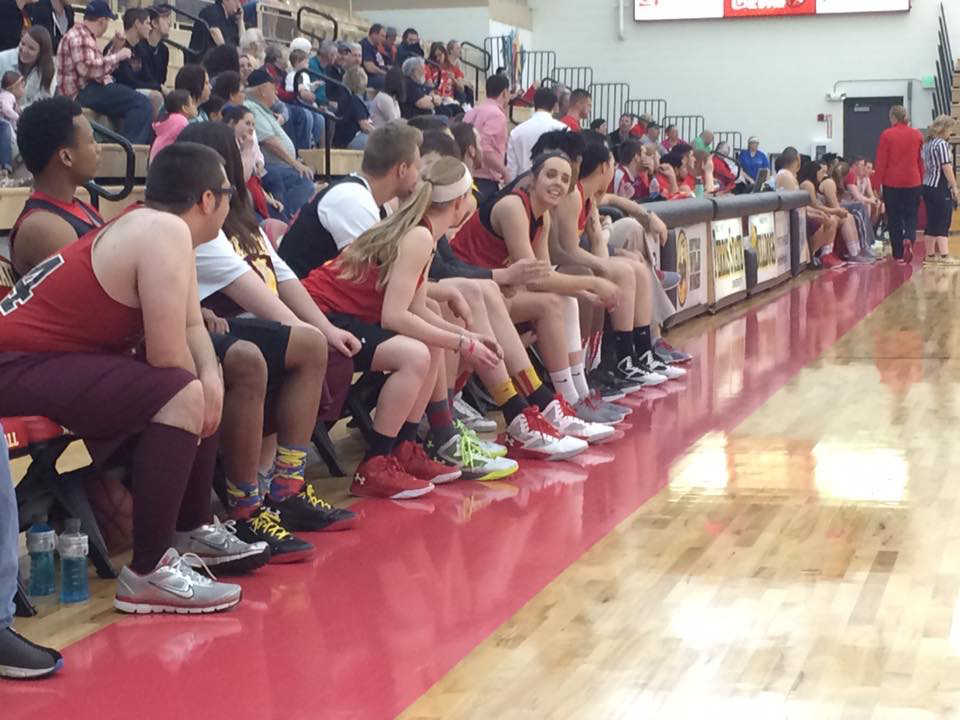 The White team of the Area 5 Big Rapids Bulldogs won 64-59 in a nail biter against the Red team on Thursday night in Wink Arena.
The Heart to Heart, Hand in Hand event, which was put on in collaboration with the sports communication registered student organization (RSO) and the Ferris sports communication class, COMM 389, raised $1,450 for the Mecosta and Osceola county Special Olympics. Both Bulldog student-athletes and fans were in attendance to cheer on the teams that were made up of men's and women's basketball players and Special Olympic athletes.
Kim Kenyon, 31, of Big Rapids had 16 points for the White team in addition to singing the Star Spangled Banner.
"It was good to have everyone clap for me after the national anthem then play basketball," Kenyon said.
Josh Bielman, 25, of Chippewa Lake also enjoyed his time playing for the White team.
"I had fun," Bielman said. "My favorite part was playing on the Ferris court with the players."
In addition to the game, there was a slam-dunk contest, a three-point competition and musical chairs. Slam-dunk champion and Ferris sophomore point guard Drew Cushingberry sees the event as an opportunity to give back.
"It's an unbelievable feeling; this is my second year doing this," Cushingberry said. "Most of the Special Olympic players are at every one of our home games cheering us on, so to give back and play in this game with them is really something special. We all love basketball and that's what brings us together out there."
Pat Rosales, the area director of the Area 5 Special Olympics, was pleased with how the night turned out.
"They love it. This means everything to them," Rosales said. "They love the Ferris athletes and mingling with them. Next week they will be asking when they can do it again."
In addition to basketball, the Area 5 Special Olympics offers other sports such as aquatics, bocce, bowling, golf, poly hockey, snowshoes, volleyball, track and horseshoes.
The night ended with a standing ovation for the athletes and a big check.
"The game is overall full of laughter, smiles and just us having fun together raising money for a good cause," Cushingberry said.