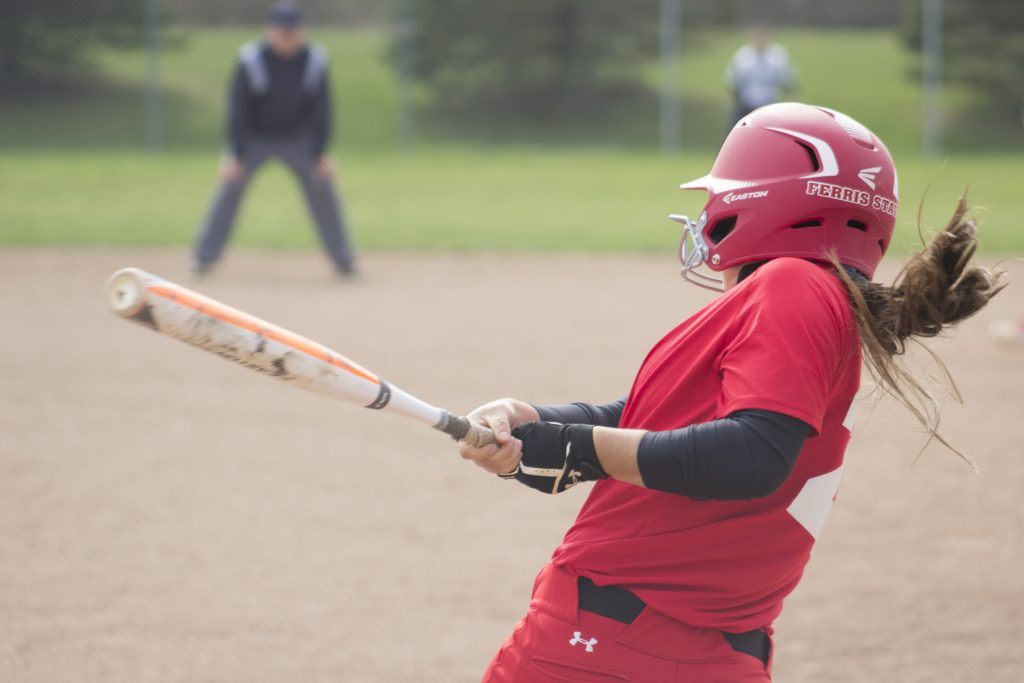 Last week while I was watching Ferris State softball play Northwood in the first game of their doubleheader on Tuesday, April 19, I found myself bobbing my head to music right before every Ferris batter stepped up to the plate or before a pitcher walked to the mound. Why? Because walk-up songs.
Walk-up songs are used in softball and baseball at nearly every level of the game. They become a part of a player's identity and can deliver a boost of motivation to the athletes as they walk out to the mound or into the batter's box.
These songs seemed to work for the Dawgs who finished their regular season with a 34-16 overall record and finished fourth place in the GLIAC—a huge turnaround from last year's 16-36 campaign.
Listed below are the walk-up songs for several Ferris softball players and the reasoning behind the players' choices.
---
Junior pitcher Meg Hiler
Walk-up song: "Guess Who's Back (Without Me)" by Eminem
Why: "I'm pretty skinny and Eminem calls himself Slim Shady! Also I like the lyrics saying, I'm back. Try and hit this."
Junior catcher Casey Bias
Walk-up song: "London Bridge" by Fergie
Why: "It is a pump-up throwback that everyone knows."
Sophomore catcher Emily Reed
Walk-up song: "Crazy Train" by Ozzy Osbourne
Why: "A shared favorite of my parents, and I knew they wouldn't make it to many games. Reminds me of them."
Senior Outfielder Alyssa Smith
Walk-up song: "Fighter" by Christina Aguilera
"It pumps me up and makes me feel like no one can throw the ball past me."
Freshman Third Base Logan Fleming
Walk-up song: "Can't be Touched" by Roy Jones Jr.
Why: "Pumps me up and makes me feel like a bit of a badass."
Sophomore Second Base Lexee Summers
Walk-up song: "Hate being sober" remix by Chief Keef, 50 Cent and Wiz Khalifa
Why: "Nasty beat gets me hype."
Sophomore outfielder Emily Smith
Walk-up song: "Freaks" by Timmy Trumpet and Savage
Why: "Because it gets me hype AF."
Sophomore infielder Stephanie Neuman
Walk-up song: "Power" by Kanye West
Why: "Because it gets the people going!"
Junior infielder Sarah Johnson
Walk-up song: "Jungle" by Drake
Why: "The beat gets me ready for my at bat. It helps me get into a zone."
Senior Second Base Michelle Tononi
Walk-up song: "Dirty Pop" by NSYNC
Why: "I like the 'wicka' scratch of the track."
Junior pitcher Megan Jean
Walk-up song: "Really Really" by Kevin Gates
Why: "It pumps me up. One of my favorite songs by K. Gates."
Junior third base Bailey Darwin
Walk-up song: "Betta Ask Somebody" by G-UNIT
Why: "Because it brings out the badass in me and makes me hit bombs!"
Junior first base Sarah Ferenz
Walk-up song: "People Back Home" by Florida Georgia Line
Why: "Because so many people have helped me get to this point in my life so when I go up to bat, it's not only for me and my team, but for them too."
---
Junior pitcher Megan Jean believed Head Coach Wally King would choose "Thunderstruck" by ACDC if he had a walk-up song, due to his love for rock music.
No. 4 seeded Ferris softball will take on the No. 5 seed Ashland Eagles in the first round of the GLIAC Tournament on Friday, April 29, at 10 a.m. in Findlay, Ohio.