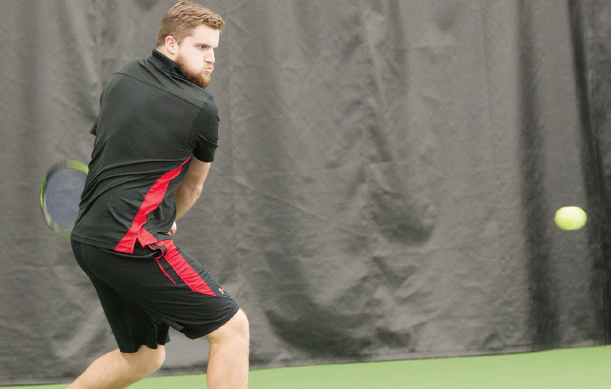 The Ferris State men's tennis team is Midland bound this weekend for the GLIAC Tournament.
The Dawgs won the GLIAC Championship for the second straight year after an 8-1 victory over Walsh last Saturday, April 23, at the Racquet and Fitness Center in Big Rapids. The team sealed the GLIAC title outright the next day, beating Tiffin 8-1.
Alex Brown is a junior for the men's tennis squad and believes his team has what it takes to bring another championship back to Big Rapids.
"For us, we have the talent to win the tournament, it is just about keeping our heads on straight and not taking any matches for granted," Brown said. "I think a lot of the guys are super excited to have the opportunity to win the GLIAC title, especially because most of the guys on this year's team were not on the team last year."
Last year, Ferris State tennis won the league outright for the first time since 1994. The Dawgs are currently ranked 36th nationally and Brown said that he thinks winning the league along with another possible GLIAC Tournament win could really elevate Ferris as the Div. 2 destination.
"This is a huge year for Ferris athletics, all around our sports were some of the best in the nation," Brown said. "Winning all of these GLIAC Championships in multiple sports puts Ferris on the map as a Div. 2 school for athletes that want to be a part of winning programs. That not only benefits my team, but the athletics program as a whole."
Brown may be right, as numerous Bulldog athletic teams won their league or tournament over the 2015-2016 athletic season. Men's basketball won the GLIAC Tournament, volleyball ran away with the league title and won their GLIAC Tourney and football won the GLIAC as well.
Ferris is currently sitting at the top of the conference with a perfect 9-0 record against GLIAC opponents. Friday's first round of the tournament will see No. 3 seed Wayne State take on No. 6 seed Walsh in match one. In match two, the No. 4 seed Tiffin will go up against the No. 5 seed Northwood.
Ferris State has clinched the No. 1 seed and have received a first round bye. The Dawgs will see action against the winner of the match-up between Tiffin and Northwood.
The tournament will take place at the Greater Midland Tennis Center in Midland, Mich. Matches start on Friday, April 29, at 6:45 p.m., and will wrap up with the championship contest on Sunday, May 1, starting at 8:15 a.m.
Ferris plays their first match on Saturday, April 30, at 3:45 p.m.