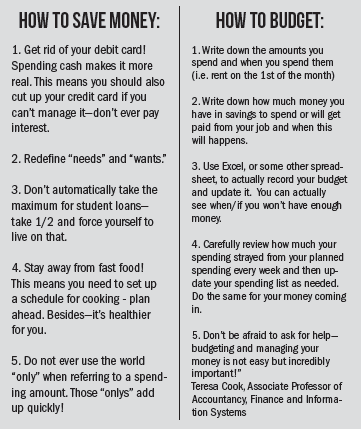 At the end of the semester, it's important for students to take study breaks and participating in campus activities is a great way to do it.
This week, Ferris State University is hosting Money Smart Week (MSW) to help students learn how to manage their money. The events include Geocaching, workshops, free personal financial counseling, a giant game of LIFE and lectures.
Students who participate will have a chance to win one of seven $250 scholarships as well as an entry for a $1,000 statewide MSW scholarship for students who participate in the Geocaching event.
On Monday, April 25, students started geocaching in the University Center by locating seven posters, scanning the QR codes at the bottom and answering a quiz over money related topics. The quiz must be answered by Saturday, April 30, for scholarship consideration.
Also on Monday, at both 11 a.m. and 7 p.m., students attended a workshop in the UC called, "Twelve Money Mistakes You Can't Afford to Make," as well as free 15-minute counseling sessions from 1 p.m. to 4 p.m.
Ferris biology senior Lisa Raney took attended the week's debut session.
"I came today to learn more about finances so that I'm not in debt in the future and so that I can plan well for the future," said Raney.
Tuesday also brought an event that informed students about how to make car-buying decisions at both 11 a.m. and 7 p.m. in the UC.
Although the majority of these events have already happened, it's not too late to join. The Geocache event lasts until Saturday, April 30 and on Wednesday, April 27, at 10 a.m. to 2 p.m., a giant game of LIFE will be hosted in UC 202.
The last event will be held on Thursday, April 28th, at both 11 a.m. and 7 p.m. in room 203 in the UC. This final event will cover retirement planning and the responsibilities that come with retirement.
For more information about Money Smart Week go to http://ferris. edu/HTMLS/admision/financialaid/MoneySmart.htm.