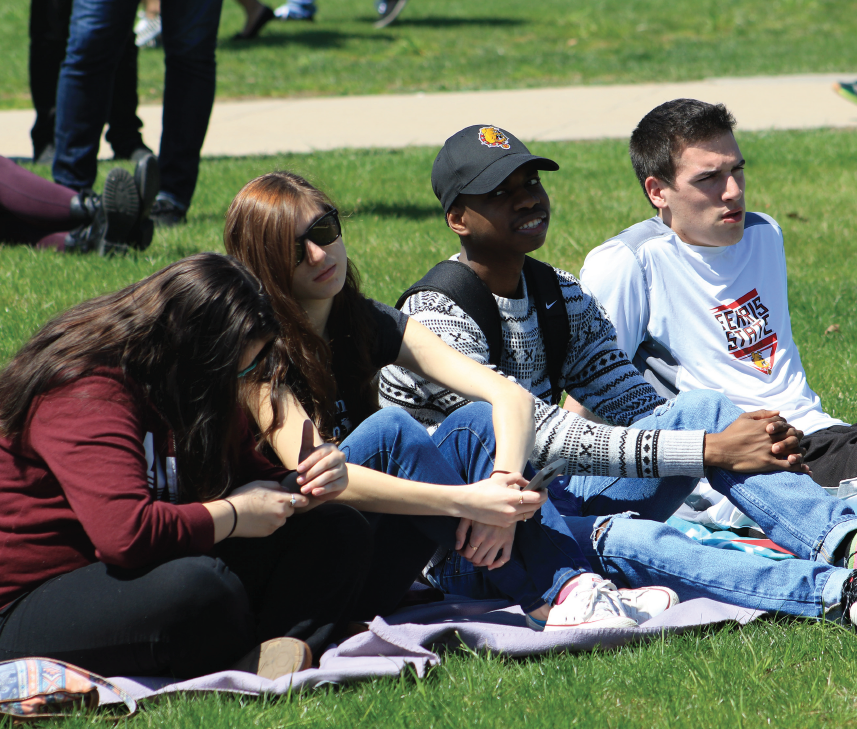 The weather was warm and the music was loud Saturday, April 23, as Lupe Fiasco, St. Lucia and guests played the Music Takes Action concert festival in Ferris State's North Quad.
Students and spectators ranged in the low thousands and a large team of volunteers showed up early to erect festival stages, tents and sound equipment for the 2 p.m. event. But it wasn't all just fun in the sun.
Oh. Wait. It totally was.
For some, attending a concert means standing around, facing the stage. Others found creative ways to kick back, enjoy the weather and catch some serious live music.
Some attendees brought their friends. A few brought their kids. Several brought their dogs, despite the no animal policy.
"It's good socialization for a puppy," said Ferris accounting freshman Jason Thompson, who brought his German Shepherd Skyler to Music Takes Action. "And to get numbers."
One spectator even hoisted his dog on his shoulders to get a better view of the stage. Another fan held up a stolen policy sign in ironic mockery in front of the stage. Lupe Fiasco even pointed out this contradiction.
"Hold up, let me see that sign. Number six: no animals. That's okay, though. We'll let that slide," said Lupe from the stage.
Hammock village is a regular sight on warm days in the quad but on the day of the festival it was in full bloom.
"You can stay here a lot longer as opposed to standing around," said Ferris CAD drafting and design freshman Hans Lorenz while reclining in his hammock. "You can get a good view if you put it up high enough. I'm excited to see Lupe."
Festival goers could be seen whizzing about on rollerblades, throwing Frisbee, hula-hooping, tossing beach balls or gathered around a circle playing Kendama. Kendama?
Kendama is the traditional Japanese game that involves a toy with three cups and a spike for catching an attached ball.
"We play pretty much all the time," said Ferris medical laboratory science sophomore Gatlin Wright. "It's all about the atmosphere—with the music, friends."
The game can be played individually or as a competition, with rules similar to HORSE.
"Land a sick trick and all your friends are so stoked about it. Right now we're just jamming," said Wright.
One concern for the festival was the possibility of alcohol being brought into the event. Ferris Department of Public Safety (DPS) officers on site claimed smooth sailing with no problems early into the event, but as the day wore on the drinks came out.
Empty beer cans materialized across the campus ground. One young woman arrived with a flask in hand, but did not want to comment. Another young woman vomited in the parking lot—after drinking too much Red's Apple Ale according to her friend.
During Lupe Fiasco's set, DPS officers set about emptying the contents of an attendee's backpack that included Red's, Bud Light, Captain Morgan and a glass pipe.
The fan received a verbal warning and loss of the contraband, but no further punishment to the relief of his friends.
"The police officers at Ferris are incredible people," said Central Michigan student David Glowski, a friend of the attendee in violation. "He was a hell of a guy."
The concert—sponsored by the student finance division, Grand Rapids' Intersection venue and many local businesses—was a big success, with high turnout and much needed benefit funds raised. But for those whose interest lies not in numbers or dollars, it was a success in other ways. Most notably, the value of fun, friends and having a good time.
"It was cool as shit," said Ferris alumnus Jordan Love.