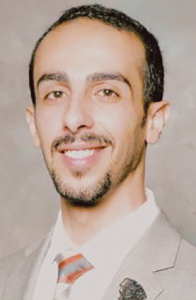 After five years and four different colleges, Nizar Almaree is graduating.
Almaree, 25, a Ferris product design engineering technology senior, is an international student from Najran, Saudi Arabia.
He came to Ferris in the fall of 2014 after studying at Grand Valley for three years. Before that, he studied English in Irvine, Califorina and at Clemson University, South Carolina. During the summer of 2015, he studied business communication, management and literature review at the University of Maryland Baltimore County. Almaree has also had two different internships—one in Washington D.C. and one in Muskegon.
All this experience, though, and Almaree has yet to find a job.
"I've applied to more than 50 companies," Almaree said. "Some just loved my CV, loved my experience, until I get to the level where I have to interview. Some don't realize I'm international and they need a sponsorship for me to be able to work."
According to Almaree, F-1 Optional Practical Training gives international graduates permission to work in the U.S. an extra three years without a sponsorship but many companies don't use it in fear of the difficulties associated with processing international students.
"I have one of the best grades in the class and the professors love me so much and I have diverse experiences, but I still can't find a job, and everyone else in the class has at least two job offers," said Almaree.
Almaree wouldn't mind staying in Michigan but he would love to go somewhere else in the U.S. that's warmer. His dream, however, is to work in Singapore because of the country's workforce diversity. Even though his job search efforts have turned up fruitless, Almaree hasn't lost hope because he would "love to stay" in the U.S.
What Almaree doesn't love about Big Rapids is its lack of a decent movie theater and mall. Also, he said the townspeople aren't too familiar with international students at first.
"They get used to just living with each other so it's harder to get to know new people here, but if you prove yourself, you get to know anyone you want," Almaree said. "Adapting to new environments is a skill that will get you many places."
Almaree has only gone home once in the past three years and the decision to come to college in the U.S. was a difficult one.
"You leave your friends and family and you know you can't see them whenever you want to," said Almaree.
Figuring out how the U.S. education system works was also a learning process for Almaree. He took a calculus class and got 100 percent on all the exams because he's always exceled at math. However, he got a B in the class because he didn't know homework was worth such a large portion of the final grade, so he didn't do it because in Saudi Arabia, it's only worth about one percent.
"I have many stories like that," Almaree said. "It was tough sometimes. At the beginning you're so fresh to the language and don't know how to negotiate. You may do more work than anyone else in the class and understand more but don't know how to express it."
Despite his current situation, Almaree has appreciated his time at Ferris.
"It's a very friendly campus," Almaree said. "Everything is in the same location here and it's not a headache to go to class every day. It's a nice city to study in because you don't have a lot of distractions."
Almaree lives at Tioga Apartments and loves waking up to the Muskegon River outside his window.
"The nature here is amazing," said Almaree. "Who could imagine students our age can live on a river and wake up in the morning and watch the river from your bed? This is a privilege only rich people get in some countries. For me, it's a big deal to wake up and see that view because my bedroom used to see different stuff—dry stuff."
Over the last five years, Almaree's acclimated to college life and is sad to be leaving it behind.
"That's what I'm working through right now," Almaree said. "I like college life, but every story comes to an end."