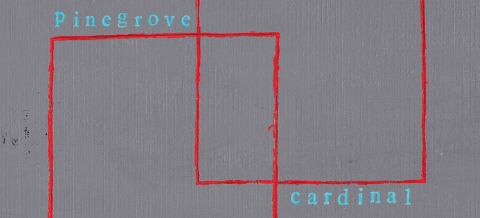 The music world has produced a substantial amount of enjoyable albums so far this year, but one album is beginning to break out a recently unheard of band.
On Feb. 12, 2016, Run For Cover Records released "Cardinal," the debut LP of Montclair, New Jersey indie rock band, Pinegrove.
Pinegrove is fronted by singer, songwriter and guitarist Evan Stephens Hall, the driving force in this album, through his emotional and honest lyrics.
"Cardinal" is a 30-minute, eight-track album. At first listen, "Cardinal" seems not much more than accessible guitar rock songs with a nice singer. After a few in-depth listens, you hear a beautifully crafted album that has elements of indie rock, folk, alt-country, pop and punk, with relatable, heart-wrenching lyrics.
"There's the rootsy shamble of early Wilco, the wiggly solos and general guilelessness of pre-prog Built to Spill," said Ian Cohen in his Pitchfork review of the album. Built to Spill and Wilco are two of the most well-known indie rock bands of the last 20 years.
"Pinegrove does a great job breaking down their influences and piecing them back into something very special, which is a hard task to pull off these days," said Music Industry Management Association (MIMA) president and Ferris music industry management junior Jordan McNaughton.
The album opens with the song, "Old Friends," which expresses the feeling of depression in a place where Hall should feel happiness. The line, "My steps keep splitting my grief through these solipsistic moods. I should call my parents when I think of them, should tell my friends when I love them," is too real.
Jumping to the last song, "New Friends," a newly recorded track previously released on a compilation album, is the bright sequel to "Old Friends." "New Friends" discusses Hall's appreciation for his old friends but resolves to make new friends and move forward.
McNaughton said he thinks "Old Friends" and "New Friends" is one of the best openercloser combos in music history.
I saw Pinegrove live on April 16 in Pittsburgh at Broken World Fest. The band was flat-out amazing. It was an unimaginable experience. Fans were singing, screaming, dancing, laughing and crying. Hall's stage presence is that of a rock star. My favorite song of the show was "Waveform." As the song progressed, Hall projected his lyrics charmingly and serenaded the crowd in the way he swayed his hips back and forth behind his guitar.
Ferris music industry management junior Mike McPherson watched Pinegrove headline a basement show at Western Michigan University last Halloween. McPherson, a songwriter and guitarist himself, said that was his first time ever hearing the band and noted that they absolutely killed the show. McPherson immediately took influence from Hall in his own songwriting.
"His poignant lyrics resonate on how I feel growing up as they are very easy to relate to," said McPherson. "When you listen to their music it sounds completely new to your ears, but at the same time nostalgic."
"Cardinal" will take more than a couple listens to really hear its full effect. The complexity shows itself more with each listen. It's the type of music that seems ageless. It's an album that incorporates attributes of rock, pop, punk and country music. "Cardinal" may not be groundbreaking, but it is definitely something special.