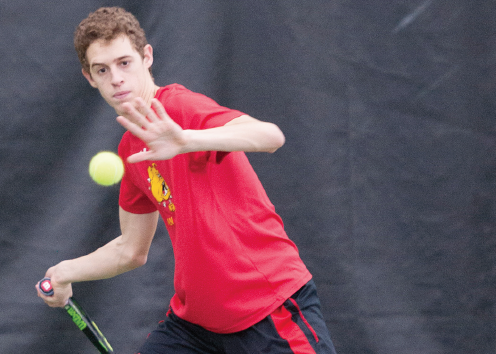 Ferris State athletics had a pretty impressive week, making it hard to choose just one athlete that stood out above the rest. However, one athlete that deserves to be acknowledged on his impressive season is men's tennis sophomore Simon Levy.
Levy, a Kingston, Jamaica native, is on the men's tennis team and is playing No. 6 singles. This is his first year being in the lineup, playing only in exhibition games last year. After a summer of training and working on his technique, Levy got into the lineup. Levy is now on pace to break one of the best records at Ferris—most wins in a season.
Paul Marcum set the original record at No. 1 singles with 31 wins. Levy is sitting at 27 wins and he has a chance to break the record if the team makes it to the Elite Eight of the NCAA Tournament.
Levy also helped the Bulldogs win the Great Lakes Intercollegiate Conference (GLIAC) regular championship back to back as the Bulldogs clinched over Tiffin on Sunday, April 24, in an 8-1 victory. He won his match against Tiffin 6-3, 6-0 and topped Heitor Adegas 6-1, 6-1 against Walsh on Saturday, April 23.