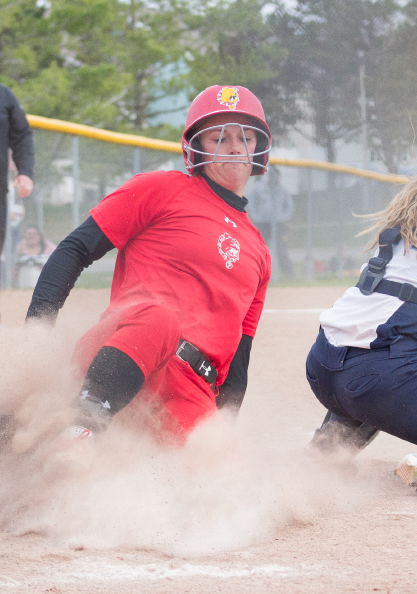 Ferris State softball is riding a nine-game winning streak into the GLIAC Tournament after a home sweep this past weekend.
The Bulldogs took down Walsh, Malone and Findlay in double-headers on Friday, Saturday and Sunday respectively, outscoring opponents 52-17.
"Right now we're on a high and that's what we want going into the GLIAC Tournament," assistant coach Jasmine Watson said.
This streak has put the Bulldogs fourth in the conference and provided a wave of momentum as they head into the tournament.
At this time last year, the Bulldogs' season was over and Ferris was on the lookout for a new head coach. The man that took the position this offseason was former Div. 1 head coach Wally King. Many of his players give him the utmost credit for the position they are in.
"Coach King has been awesome and I feel that he's had a lot do with our success in how he instructs us," sophomore outfielder Alexx Astorga said.
King has inspired his girls to play together like they had not in the past and stifled doubt that infected the Bulldogs in the past.
"We get along as a team so much better. We play for each other a lot. Some of the upperclassmen are sick of what has been happening in the past," sophomore infielder Lexee Summers said,
Ferris has gone from 16-36 last year to 34-16 this season. With the conference tournament approaching, all past mediocrity will be left behind as the Bulldogs look to go from bottom feeders to champions.
Watson sees No. 3 seed Hillsdale and No. 1 seed Wayne State as the toughest opponents in the tournament.
"Those two right now are definitely leading with their pitching. They're the strongest we'll see in the GLIAC," Watson said.
These two teams have had dominant pitching according to the eye and by the numbers. Wayne State and Hillsdale are first and third respectively in the conference in runs allowed and ERA. Wayne State has allowed 211 runs with a 1.23 ERA while Hillsdale has allowed 247 runs with a 2.15 ERA.
Yet regular season stats will not matter when the Bulldogs take on the Ashland Eagles in the first round of the GLIAC Tournament. Ferris took down the Eagles in Ashland on March 26, winning both games by score of 5-2 and 7-4.
Ashland has some firepower, placing just behind Ferris in the GLIAC at third in the same hitting categories. However, the Eagles have had some of the worst pitching in the GLIAC with a 3.53 ERA.
The first round game starts at 10 a.m. on Wednesday, April 27, in Findlay, Ohio.