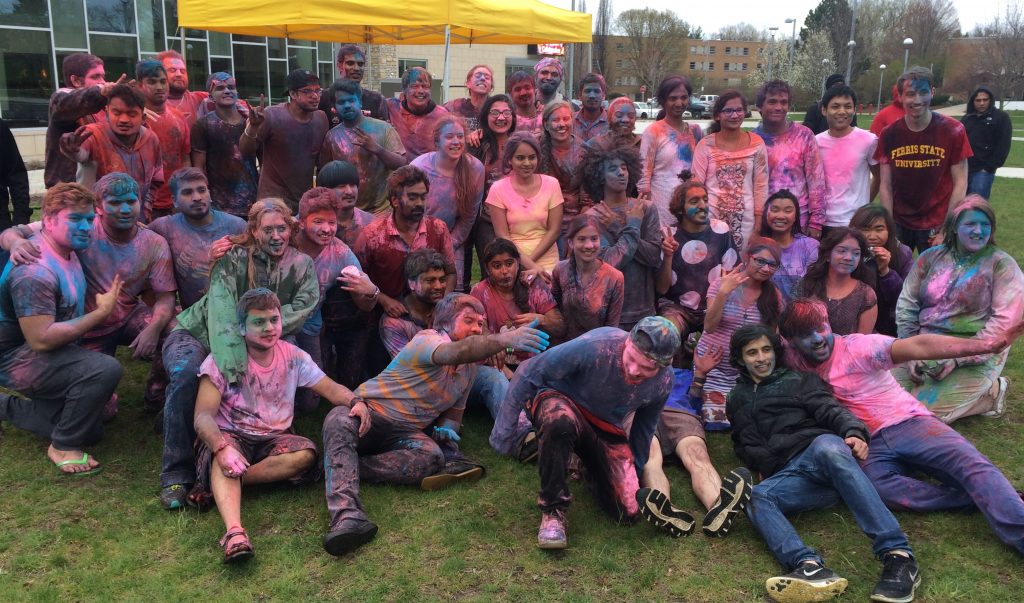 Clouds of pink, purple, orange, blue and green flew across North Quad as Ferris students celebrated the Holi Festival of Colors.
Ferris' International Students Organization (ISO) hosted the annual Holi event, which began as a Hindu celebration of good over evil, but has grown in popularity among many other groups across the world as a celebration of spring and equality.
"Different colors represent people coming together. All different colored skins are at the same level so there is no discrimination," Ferris business administration senior and president of ISO Thong Tran said.
The base of the various colors is cornstarch, so it is safe to eat, washes out of clothes easily and is safe for the environment, according to Tran.
The two-day Holi festival is traditionally celebrated between the end of February and the middle of March, but Michigan's cooler temperatures forced a change of schedule.
"Even though it's so cold, people are still coming," Tran said. "In India the festival is on a different day, but in Michigan it's cold so we moved it to April."
Despite the cold, ISO had several sign-up sheets filled with names of participants and was pleased with the turnout as a whole.
About midway through the event, one participant fell and twisted her ankle which began to swell. An ambulance arrived on the scene shortly after, but the incident did little to put a damper on the overall celebratory atmosphere.
Members of ISO not only help to plan events such as the Holi Festival of Colors, but also help bring awareness of global cultures and customs to Ferris.
"You're going to gain a lot of perspective and learn a lot, so come out and meet people from different backgrounds," Tran said. "You learn about different cultures with an open mind for global awareness."
General ISO meetings are held every Friday at 3 p.m. in IRC 104, and the group welcomes any new members of any background to join their ranks.