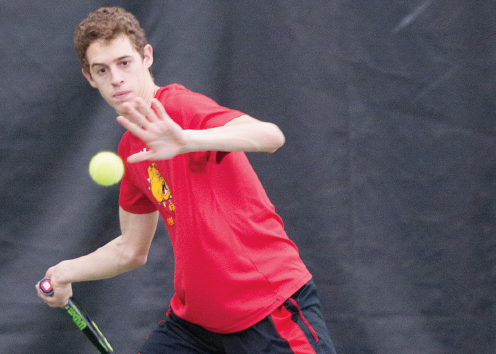 The Ferris State men's tennis team beat Midwestern State (Tex.) to advance to the Final Four of the Div. 2 NCAA Tournament for the first time in school history on Thursday.
The unranked Bulldogs bested the No. 14 Mustangs 5-2 in the Elite Eight taking place in Denver, Colo. marking their 12th victory in a row and 17th win in their last 18 matches. This year also marks the 20th time the Bulldogs have made it to the NCAA Div. 2 National Tournament.
This is only the third time in GLIAC sports history that a tennis team has reached the NCAA Final Four. The Bulldogs also are back-to-back GLIAC outright champions in addition to winning the GLIAC Tournament this year.
The Dawgs took two out of three doubles matches including an upset by Ferris sophomore Vasil Surduk and freshman Nur Adim Ramdani Isawn against the nations 22nd ranked duo. Ferris' third doubles team consisting of freshman Steward Sell and junior Alex Brown also won 8-6.
The singles winners for Ferris included sophomore Daniil Tarantino, freshman Till von Winning and Isawn. Ferris sophomore Simon Levy and Sell's matches went unfinished due to the match being decided early.
The team has 25 wins thus far this season, which sets a new school record topping the old record of 23 wins in 1999. In addition to this, Ferris' Levy is on the brink of breaking the single-season wins record if he takes one more match. This would mark his 32nd victory.
With todays win, Ferris will face No. 3 Hawaii Pacific on Friday at 3:00 p.m. with a chance to make it to the national championship.