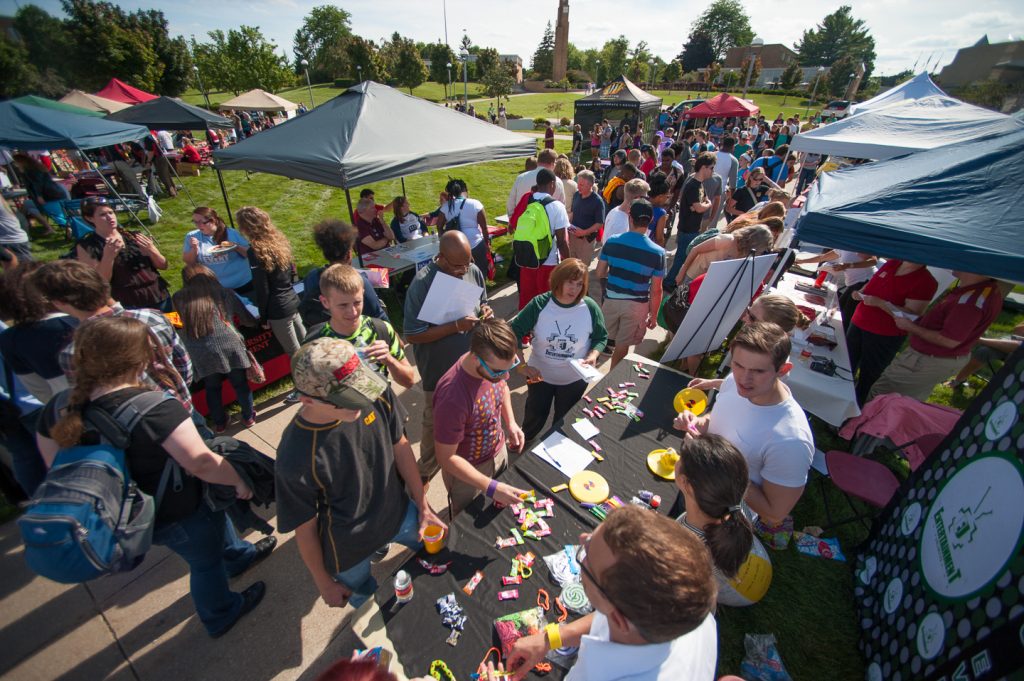 The beginning of the fall semester is upon us, and Ferris State University is hosting a week long- extravaganza of events to help students feel relaxed and welcome for the start of classes.
Bulldog Beginnings is geared primarily toward first time students to Ferris State to help them get acquainted with the Big Rapids campus and this year students will have the chance to get more familiar with downtown Big Rapids.
"We have a new event called Big Rapids Beginnings," said Nick Smith, activities coordinator at Ferris' Center for Leadership, Activities, and Career Services (CLACS). "Students will go to local businesses, there will be some giveaways and business poker run. It's really to showcase Big Rapids and what else is out there because students who are new to the Ferris community are new to the Big Rapids community as well."
Big Rapids Beginnings will take place from 3 to 6 p.m. on Saturday, Aug. 27. There will be buses to take students back and forth to campus and the downtown area.
Following the downtown activity will be Meijer Mania from 7 to 10 p.m. at Meijer on Perry Avenue. There will be coupons available, savings on items useful for school and home with activities for students to participate in. Buses will be available for this event as well.
Saturday night will wrap up with Late Night in the University Center from 9 p.m. until midnight. Games, activities and free food samples will be available to students.
"Sunday, the bookstore in the University Center will be open from 2 to 5 p.m., and a lot of students come in to buy their books," said Smith.
"There will be some more activities for students to participate in while shopping for their books or hanging out in the UC," Smith added.
Heading into the start of classes on Monday, Aug. 29, Ferris State will hold "First Impressions" where faculty and staff will be in different locations around campus, ready to guide students where they need to be. Later in the afternoon is Rec Fest from 5 to 8 p.m.; the Rec Center will be open to all students, so those new to campus can check out the facility and participate in activities there.
Events continuing on Tuesday, Aug. 30, include "Social Fest Snapchat Challenge" from 9 a.m. to 3 p.m. Later in the evening, starting at 9 p.m. in the North Quad, is Throwback Time Machine, a multimedia dance party hosted by Entertainment Unlimited.
Students will have the opportunity to check out the Academic Support Center from 8:30 a.m. to 5:30 p.m. on Wednesday, Aug. 31, in room 1017 of the Arts and Sciences Commons. The Campus Beautification Project is a new event this year taking place from 9 a.m. to 6 p.m., and will provide new students insight as to what the Big Event is. More information about the Campus Beautification Project can be found on the CLACS Orgsync page.
"We have a campus beautification project. Again, another new event," said Smith. "It's all around campus and cleaning up smaller stuff. It's the first week of class, so Ferris has already prettied up the campus and everything looks nice, but there's some little pocket areas that could use a little bit of love. It gets students out there to see a little more of the campus that they might not always see, do some service and be connected because it's their new home. Let's make it nice."
Founder's Day is a special day to FSU to celebrate the contributions of Woodbridge and Helen Ferris to the university. There will be an ice cream social from 4 to 7 p.m., Thursday, Sept. 1, in the North Quad, providing chances to meet with various five-star registered student organizations on campus and music from Beach Thief and City Sun.
Since Friday is the beginning of Labor Day weekend, the football game traditionally held on the first Friday of classes has been moved to 7 p.m. Thursday, Sept. 1. After the game, Entertainment Unlimited is hosting another dance party called the Fifth Quarter, taking place immediately after the game has concluded. Ferris' own DJ CHoFF will provide the evening's entertainment.
"We're hoping the Fifth Quarter will become a tradition," said Smith. "When we have a game on that welcome week, we'll do something afterwards down on the field."
From 2 to 4 p.m. on Friday, Sept. 2, FLITE will become a disc golf course for students to play a round inside the library. It gives new students, and some older students, who haven't yet explored the library an opportunity to do so in a fun way.
"Some people don't always know what's in the library because you can do so much online, but there are reasons to go over to FLITE. There's much more to it than that," said Smith.
More information about the week's events can be found at ferris.edu/bulldogbeginnings.