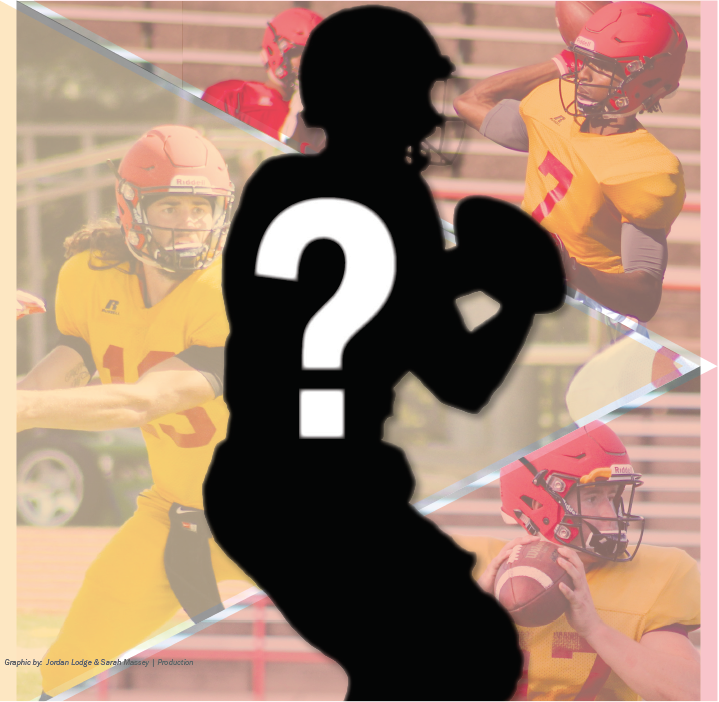 There's a hole on the roster at starting quarterback for the Bulldogs that's two Harlon Hill trophies-wide, and three candidates are all looking to fill it.
Former Ferris quarterback Jason Vander Laan was voted the best player in Div. 2 football in two consecutive seasons while leading the Bulldogs to back-to-back GLIAC Championships in 2014 and 2015. Now that Vander Laan has departed, the Bulldogs are looking to cull his replacement.
"It's still a work in progress. In practice we're pretty much splitting reps evenly, so we're still open and it's still a battle," Coach Annese said. "We want competition and we want that at every position."
Though there are many quarterbacks listed on the Bulldogs' roster, only three were seen taking reps with the first team offense in practice on Monday. Those three were senior Trevor Bermingham, Div. 1 transfer Reggie Bell and sophomore Travis Russell.
"In football sometimes it's more about not making the big mistake. Our quarterback will have a lot of good players around them so it's one of those things that if we can get a person to manage our game and not make a big mistake then that's what will be critically important for us," Annese said.
Bermingham is a familiar face for Bulldog fans, as he has served in a backup role to Vander Laan for the past three seasons and also handled special teams duties as an all-conference punter.
As the most seasoned quarterback on the team, Bermingham hails from Addison, Ill. and stands 6-foot-4 and 198 pounds and completed 77.4 percent of his passes on 31 attempts in 2015. He's also had the most experience in Annese's offense of the three primary candidates for the starting job.
Bell is a speedy 6-foot-3, 190 pound dual-threat player vying for the starting spot under center. The Los Angeles, California native played for two years on the Div. 1 level at Eastern Michigan University before transferring to Ferris during this past offseason.
Bell played 16 games during his two-year stint at Eastern where he accounted for 11 touchdowns and completed 57.6 percent of his passes.
"[Bell] is doing a good job and learning the system. His biggest issue is just command of the offense and making sure that he's taking those leadership roles," Annese said. "I always tell my quarterbacks how important it is to work for that command and respect on the field."
Grand Rapids native and sophomore quarterback Travis Russell has yet to see action in a Bulldogs uniform, but has been learning and adapting to the offense for over a year.
The 6-foot-1, 190 pound signal caller led his high school team to two consecutive state championships while providing a total of 112 touchdowns and 9,900 yards of combined offense in his high school career. Whether his athleticism can translate to the next level will likely decide if he can lead the Dawgs' offense.
"The biggest challenge is that we have some guys with different skillsets," Annese said. "You kind of take the value they have skillset-wise and then factor in leadership and knowing the system."
Regardless of who is named the starter at the position, each athlete may still have the opportunity to play. According to Annese, "We're going to use multiple quarterbacks for sure." Annese is also confident that the surrounding cast of players on offense will help to ease the transition to a new starting quarterback.
"We've got a lot of good players around our quarterback and we didn't lose a running back that saw significant action. We lost Antonio Agurs at slot and Jacob Lampman at outside receiver, but those are positions of depth for us so we feel like we're pretty solid when it comes to filling those voids," Annese said.
In addition to ample depth and the return of some key starters on the team, Annese also sees some unsung players from last year poised for a breakout season in 2016.
"[Sophomore wide receiver] Malik Taylor is one of the guys that we feel has a lot of potential to really have a breakout season. [Sophomore running back] Robert Thomas played some last year but we feel really good about his skill," Annese said. "On defense we've got some guys that have really developed effectively."
Annese also named a trio of juniors in linebacker KC Zenner, defensive back Tavierre Thomas and cornerback Jevonte Alexander who will act as cornerstones for the Bulldog defense in the coming season.
The starting quarterback will be settled upon in the coming week according to Annese.
Ferris opens their season at home against the Ohio-Dominican Panthers, who they defeated by a 38-17 margin last year. The game will close out Founder's Day at 7:30 p.m. on Thursday, Sept. 1.