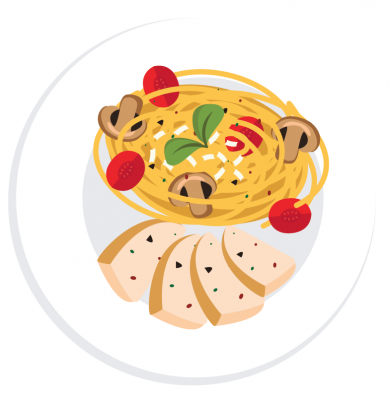 When people think about meals and Ferris State, they often think about the limitless options available at The Rock. What they don't think about, however, are the students who go to bed hungry each night.
The Emergency Food Pantry, which is located behind the science building in the Wesley House building is working to change this. The food pantry is available to all Ferris students in need of a meal; all they need to do is show their student ID.
"I think it's important to have places like this so that students can feel like they have a place when they have nowhere else to go," said Ferris criminal justice senior Olivia Johnson. "Students can come to cook meals if they need to, take a nap, study and even come for free meals twice a week."
Johnson is the coordinator and the mastermind behind the Emergency Food Pantry, which is new to Ferris this year.
"I think it's important for students to know that this food pantry was created by someone who has struggled like them and who still feels their struggle," Johnson said.
Devon Herrell, the director for the ministry of Wesley House and the pastor of the United Methodist church, has been working closely with Johnson to get the food pantry up and running. Herrell sees value in the food pantry, especially when it comes to getting an education.
"I'm hoping that hungry students who may not be able to connect with the pantries in town will feel comfortable to come to a place where there are other students," Herrell said. "It's important to me that students have what they need to accomplish their goals. If you're hungry it's really hard to perform well on a test or even concentrate on learning in the classroom or while doing homework."
To volunteer or lend a helping hand at the Emergency Food Pantry, students can simply show up and help out with invent o r y , shop for groceries, or help those who come in to receive food. The pantry is entirely run by students and those who help out can also receive volunteer hours.
"We never want anyone to feel like they can't come and volunteer or even enjoy a meal," Johnson said.
Herrell was also adamant about students coming in to help out.
"It's a problem that we can solve if we all work together to meet the need and offer a safe place for students to come and get what they need," said Herrell.
Other ways to get involved in the cause are having more registered student organizations (RSO) host canned food drives, establishing a partnership with the food pantry to get the word out or even teaming up with Johnson every third Saturday to serve meals at the Third Avenue Methodist Church.
"Bridging the gap between hunger and higher education is my mission," Johnson said. "I have a heart to serve others."