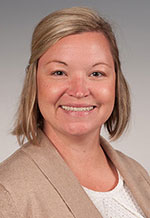 After not having a head administrator for a large portion of the 2015-2016 academic year, Ferris has hired on Lindsay Barber as the new Director of Birkam Health Center (BHC) and Personal Counseling Center.
Barber, a Michigan native, grew up in West Branch. Her mother, who was a nurse practitioner in addition to running her own family health clinic, was Barber's inspiration.
"My mom is the main reason I pursued a career in the health field," Barber said. "She instilled in me a strong work ethic and compassion for patients."
After graduating from Ogemaw Heights High School, Barber went on to attend Central Michigan University (CMU), earning her bachelors in commercial recreation in 2007, followed by her masters in healthcare administration in 2012. During her time at CMU, Barber worked as a personal trainer at Clare Health & Fitness to help pay for school.
After marrying her husband, Mike, in 2013, the pair eventually relocated to Houston, Texas, as a result of his work as an environmental scientist. During this time, Barber served as Associate Director at the University of Houston Health Center, but her heart never left the mitten state.
"I think I always knew we would eventually end up back in Michigan," Barber said. "There is nothing quite like this state. The position at Birkam Health Center and Personal Counseling Center gave us the perfect reason we needed to finally make the move. Having the opportunity to help create a high quality health care option for Ferris students is an added bonus!"
Barber is not the only new face at BHC as Dr. Peter VanDeMark and Christy Bourdlais, NP, have also joined the staff.
In addition to Barber's plans to increase students' recognition of Birkam, Bourdlais specializes in Women's Health and will be assisting in the launching of new services specifically for female students.
"We are here for our students," said Barber. "That is our number one priority."