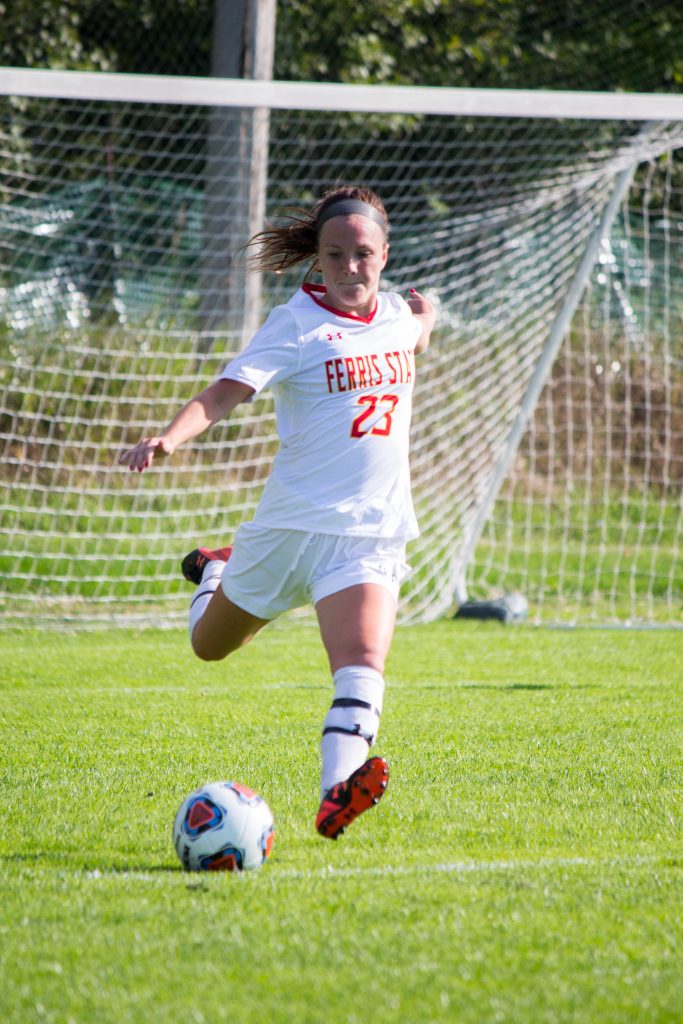 Coming off a record-breaking season in 2015, the Ferris State women's soccer team is already on the verge of their 2016 soccer season.
After three summer exhibition games, the women will start things off at home on Top Taggart Field against the Lewis University Flyers. The Flyers ended their 2015 season with a record of 10-7-2.
The 2015 soccer season was good to the Bulldogs, who placed the highest in the school's history among the league with 14 overall victories, another school record. Head coach Andy McCaslin was granted GLIAC Coach of the Year honors for the program's 2015 accomplishments, leading a team who had achieved more than any other Bulldog soccer team had done in the past.
Meredith Smith, a senior defender on the team played a big role in the Bulldog's 2015 league runner-up finish as a junior. Smith scored six goals while tallying seven assists last year and said the team is as prepared as they've ever been.
"This is the fittest we have come in for a preseason since I have been here, so I am looking forward to a great year, and hopefully one that is as successful as last year," Smith said.
Smith also spoke on the eight seniors that the team lost and claims that girls are showing that they have what it takes to take over.
"We did lose a lot of great seniors this past year, however we have players that are stepping up and that I think will be able to fill the roles that many of the seniors left," Smith said.
The 2016 GLIAC Preseason Coaches' Poll placed Ferris soccer third overall in the rankings for their achievements last year, a sign of the team's newly found success. McCaslin gave a lot of credit to the graduated seniors but is also confident in his current talent.
"We did lose a lot of experience to graduation, but that is a reality of a college coach's role," said McCaslin. "We've got the mindset in our program of next player up."
McCaslin also discussed the firm stance he instills when it comes to improving on the field.
"With a new team, it is always a learning experience and we'll have some teaching moments along the way," McCaslin said. "The program standards and our expectations have not wavered, we have to find ways to execute together when the time comes. We've got a tremendous group that will do just that."
The Bulldogs have also brought in a lot of new talent to fill any holes that may need filling.
"This new group that we have this year is one of the largest we have ever brought in," said McCaslin. "It is a new group of ten players, eight freshmen and two transfers. Adding that many and losing a big group from last year really changes the dynamic of the group and it is very cool to see new voices and new leaders emerging."
One of those new athletes who made the choice to play at Ferris is freshman forward Brandi Wagner. Wagner, among the other new Dawgs, is ready for the opportunity to play for Ferris State.
"I'm very excited to be a part of a program that is having so much success," Wagner said. "I am look- ing forward to playing at a higher level, learning from the older girls and coaches, what it takes to be successful, and mostly to be a part of the Bulldog community."
Lady Dawg soccer officially kicks off their season on Thursday, Sept. 1, at 1 p.m. on Top Taggart Field in Big Rapids.