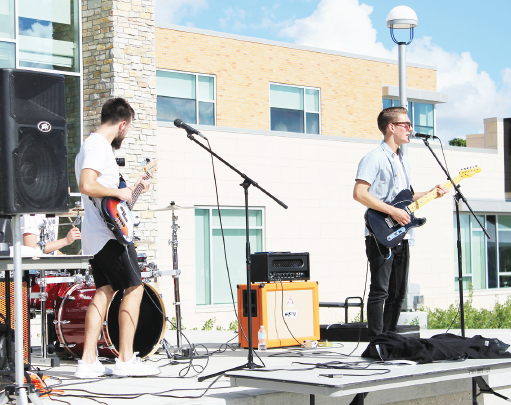 Thursday, Sept. 1, marked Ferris' Founders' Day, the annual celebration of Woodbridge and Helen Gillespie Ferris.
The festivities kicked off at 11 a.m. in the University Center when President David Eisler spoke to an overflowing room of students, faculty, staff and community members about his hopeful plans for the future of Ferris.
President Eisler's speech began with a story about Woodbridge and Helen Gillespie Ferris and the very beginnings of what is now an expansive university. He then reflected on topics including student enrollment and success, debt distribution, campus development and leadership development, among so much more.
"The optimism at Ferris is infectious," Eisler said.
The President's speech wasn't the only overflowing event on Founders' Day.
The celebration and ice cream social taking part on the North Quad attracted a large amount of the Big Rapids community. Food, ice cream, music and games were all provided for free to those who attended.
"I really like the ice cream, the free food in general and the mechanical bulldog," said Ferris pre-dentistry junior Christian Watson. "It helps establish a sense of campus community, it keeps hold of your traditions and you can meet up with a lot of friends you haven't seen in a while."
The ice cream social was also a great way to get more students involved with groups on campus, who were able to set up information booths. Students could visit each booth, obtain goodies and sign up for activities around campus that interested them.
"They have so many different areas of campus here that you can see and look at so that if you didn't know something was there, you can find out more about them. It's a way to get more people involved on campus," said Ferris spanish for the professions and psychology sophomore Nick Capell.
Ferris business management sophomore Tiachante Adkins agreed.
"All the information that they're giving about the school is actually very great for people like me," said Adkins. "Last year I didn't get out that much so now I know more."
While it is a fun-filled, free event, Founder's Day is recognized as much more by Ferris students, faculty, staff and community.
"It's important because you're being thankful for someone that created something," Adkins said. "Something that you can learn from and build your career off of."
To see more photos from Ferris' 2016 Founders' Day, click here.