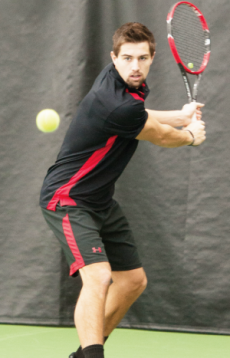 Get your rackets ready and lace up your tennis shoes, because the Ferris State Bulldog men's tennis team is back after an amazing 2015-2016 season.
Last season, the men of the Bulldog tennis squad held a 25-5 overall record, winning the Great Lakes Intercollegiate Athletic Conference (GLIAC) Championship as well as the regular season outright after defeating Grand Valley State University in the GLIAC title match. Best of all, the team made it to the Final Four of the Div. 2 2015-2016 tournament picture, a first for the Ferris program.
Steward Sell, a freshman on the team last season, earned the victory in the singles competition during the Final Four match that the team lost against Hawaii Pacific.
"Making it to the Final Four was above and beyond what we had expected. It was one of the coolest experiences I have had, and to share it with the guys was awesome," Sell said. "Our team goal was to make it to the Sweet 16, and when we accomplished that we were stoked. Each win after that was icing on the cake."
Sell also said that the expectation for the 2016-2017 season is to work even harder so they can continue to improve their game. The team learned last year that anything is possible with hard work and they expect to pick up right where they left off. Head Coach Chad Berryhill claimed 2016 GLIAC Coach of the Year honors for men's tennis, and was a huge part of the team's success.
"Coach was extremely happy with the results last season, but he tells us that this is a new year and what happened last year doesn't matter for this season," Sell said. "We're going to have a target on our backs more than ever now and we have to step up to the challenge again and work harder."
Conner Hunt is a senior for the Bulldogs this year. Hunt, who ran doubles with Sell in their Final Four loss, talked about where some of the team's focus is this year.
"I think we definitely let people know that we are here," Hunt said. "We have our goals as a team, but we do not have anything to prove to anyone else. We know that we have teams gunning for us now, but we do not pay attention to any of that. We are focused on ourselves and on our results—no one else's."
Hunt's expectations for the team this year have not changed, and he is excited about all the work his fellow teammates have been putting in.
"Our doubles lineup will probably change somewhat, but we have about everybody back from last year," Hunt said. "We have some new talent and people have been putting in work over the summer, so it will be interesting to see how it shakes out. We are all excited to see what happens."
As one of the five Bulldog teams to claim a conference title during the 2015-2016 school year, the team proved that they have what it takes to be considered a top team in the conference. The Dawgs also broke a school record with their 25 overall wins, adding another accolade to their already great season.
The Dawgs will begin their journey back to the top when they start their season at the Warhawk Invitational in Whitewater, Wisconsin, Friday, Sep. 9.